15 Best Email Marketing Tools in 2021
In this blog, we will list down, analyze and compare the top email marketing platforms in the world.
Marketing and its channels have evolved exponentially over the years. Various marketing bubbles come and go but email marketing is here to stay! With 87% of B2B marketers relying on emails for nurturing their audience, the war in inboxes is fought tooth and nail. 
Email marketing is one of the greatest ways of amplifying your audience base. It allows you to create a direct connection with your audience and deliver targeted messages to them. If done properly, emails can generate huge revenue for businesses. 
However, creating professional-looking and intriguing emails is no piece of cake. Marketers have to scratch their head in designing and creating eye-catching email templates. Without the right email marketing tools, their efforts can go in vain. Thus, finding the right email marketing tool for your business is crucial. 
Many businesses can/do not invest in email marketing as they consider it to be expensive. However, just the right fit of email marketing software can save thousands of bucks and help them generate $42 for every dollar they spend on email marketing. 
So, this blog will take you through some of the best email marketing tools! The right usage of these tools will help you get the most out of your email marketing campaign. 
In today's list of the 15 best email marketing tools, we'll walk you through the best email marketing software present in the market. We'll also check their features and subscription plans to find the perfect fit for you!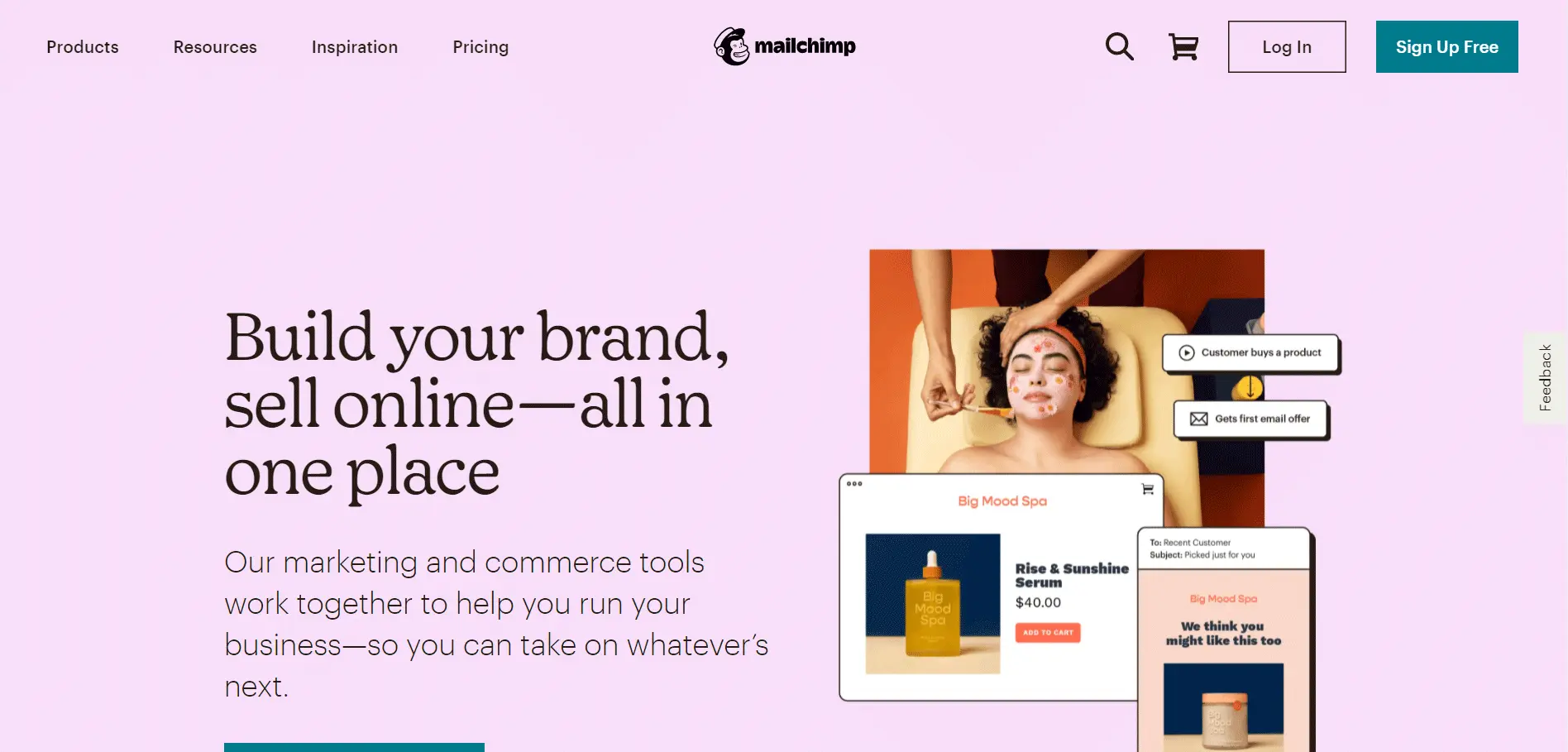 Website: www.mailchimp.com
Mailchimp is presumably the most popular email marketing tool among marketers. As of 2021, it is the second leading Email Service Provider (ESP) across the globe. 
The major reasons for Mailchimp's popularity are its unique features and free email service. Mailchimp's free plan is a boon for startups and small-scale businesses who are incapable of spending huge bucks on email marketing. 
Through the free plan, businesses or individuals can send up to 12,000 emails to 2000 customers. Since the plan is completely free of cost, it lacks some advanced features like send-time optimization or advanced audience segmentation. 
Today, Mailchimp is one of the most beginner-friendly EPS platforms present in the market. 
This email marketing tool includes several spectacular features: drag and drop email builder, tracking for analytics, autoresponders, audience segmentation, and more. 
What's more? It also allows users to segment their email list based on geolocation. Also, you can integrate your Mailchimp account with WordPress, Shopify and many more. 
Mailchimp provides 3 types of subscription plans to its users. A lifetime free subscription plan with certain limitations and drawbacks. However, their paid subscription plans start from $10/month for 500 subscribers. Gradually the price increases with an increase in the subscriber's count. 
On the contrary, most of the large-scale companies prefer the most expensive plan on Mailchimp i.e of $299 per month. Through this plan, you can explore advanced features like audience segmentation, comparative reporting, multivariate testing, and many more.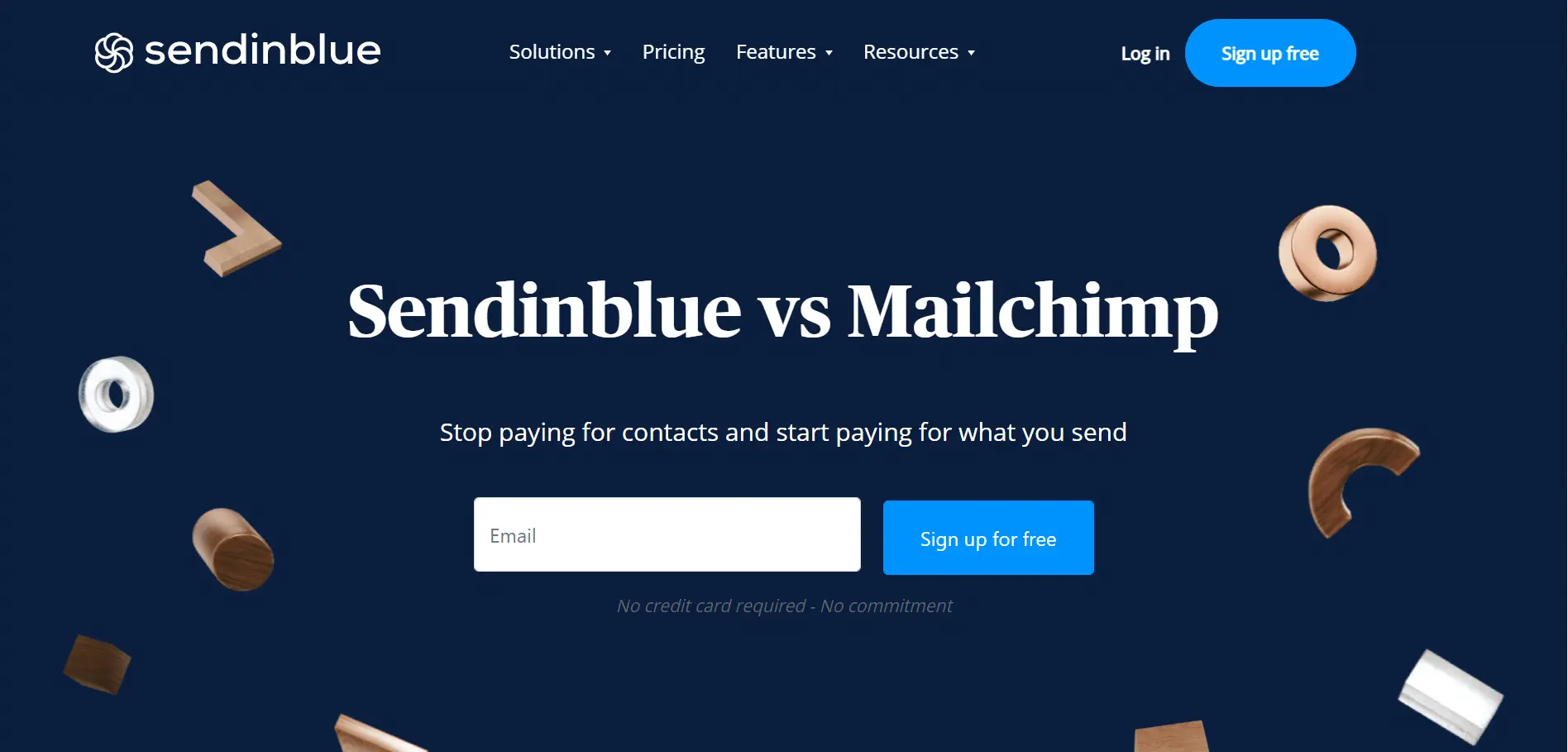 Website: www.sendinblue.com
Sendinblue is a popular email marketing software trusted by marketers worldwide. The software is easy to use and gives a remarkable user experience. With this tool, users can easily create creative email campaigns and track them.  
With the sophisticated marketing automation tools of Sendinblue, you can create workflows, set automatic follow-up emails, and segment users. 
What's more? With Sendinblue, send transactional emails and bulk emails to your customers in no time. 
Sendinblue offers a completely free plan to its users. This plan allows you to send a maximum of 300 emails every day. However, their branding will be included in every mail you send. On the downside, you can't avail some advanced features through a free plan. 
Their paid plans start from $25 per month to $65 per month and more. You can avail several features like marketing automation, Facebook ad integration, multi-user access, SMS marketing, etcetera through these paid plans.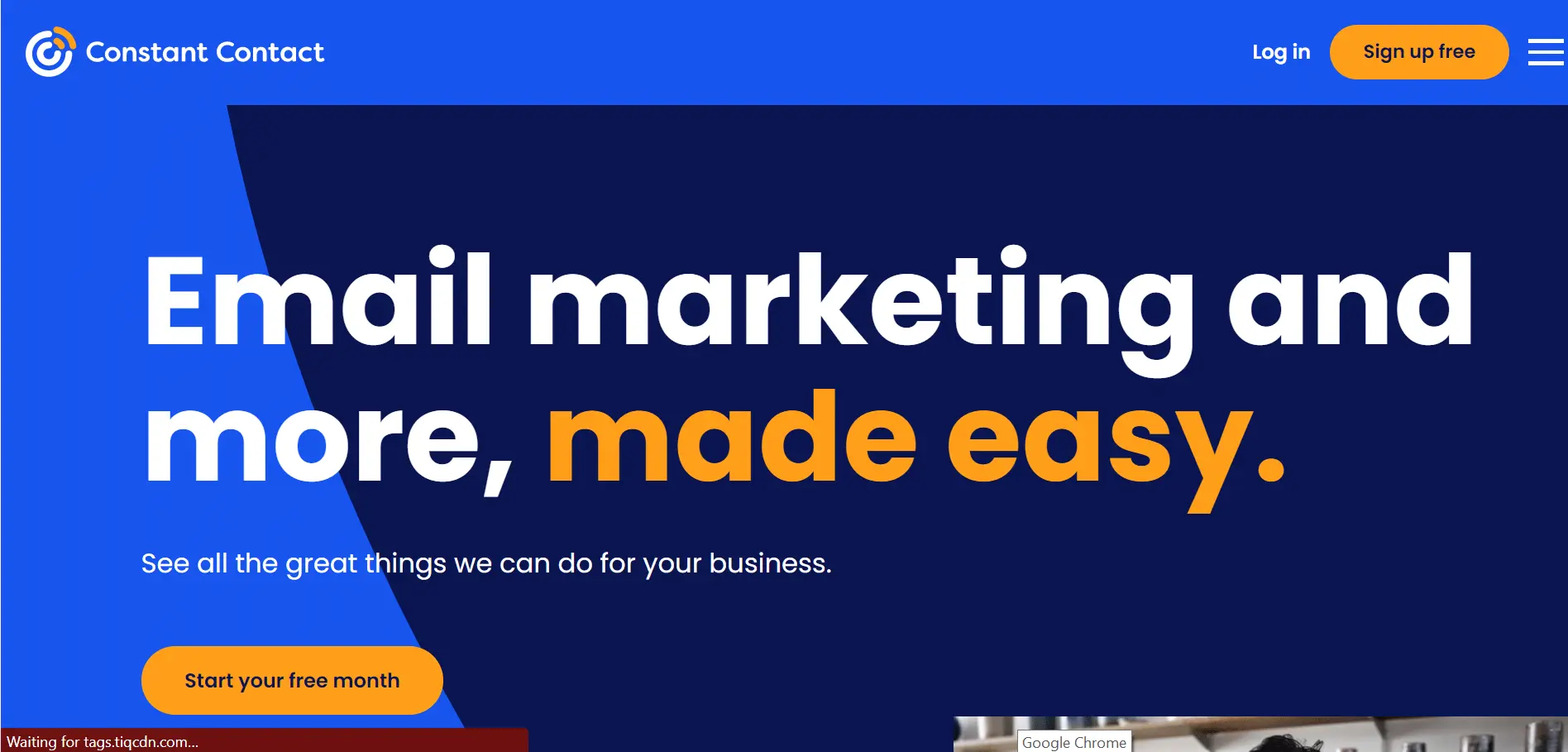 Website: www.constantcontact.com
Next is Constant Contact, the world's seventh-leading email service provider in 2021. 
With Constant Contact, you get the liberty to manage your email lists, contacts, the marketing calendar, emails, templates, and many more. 
This email marketing software provides a 60-day free trial to its customers. After the trial period, customers can buy their paid plans starting from $20 per month to get advanced features. 
Through Constant Contact, you can easily integrate Facebook ads, keep track of your emails and get real-time reports. 
Their paid subscription plans allow you to create surveys and polls, conduct A/B testing, automate emails, etcetera. 
To help startup and small business owners get the most benefit from Constant Contact, they conduct live seminars every once in a while. 
So, if you want to scale up your business with email marketing, switch to Constant Contact to get an unmatched user experience!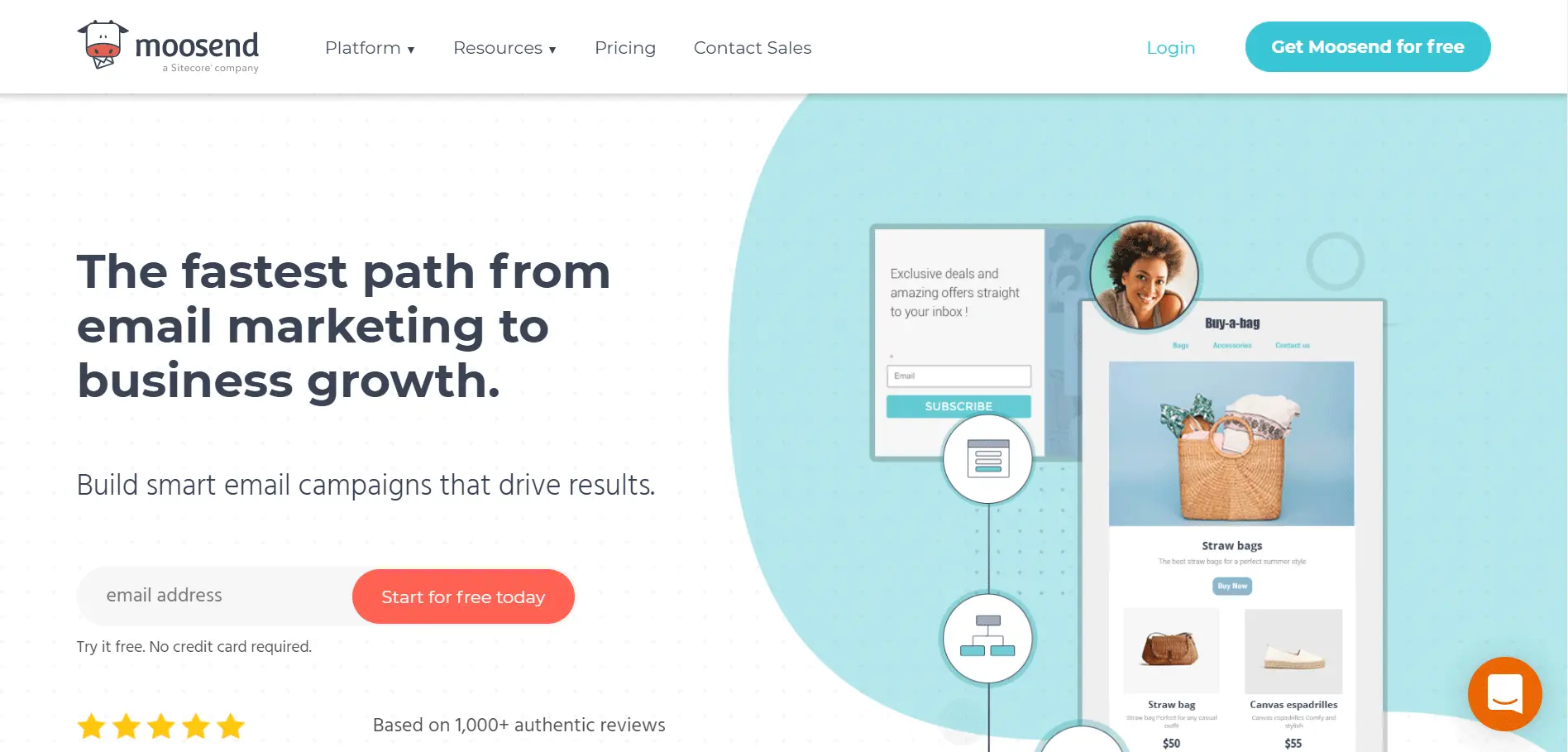 Website: www.moosend.com
If you're looking for a prompt email marketing tool, then Moosend might be the right fit for you. With Mossend, you can simply automate most of your tasks and save a lot of time and energy on sending emails. 
Moosend is probably the only free email marketing tool that does not include their branding on emails. 
You can segment and manage your email list, create personalized email templates, and conduct A/B testing through this tool. 
Moosend's Pro Plan starting from $2 per month allows you to create transactional emails in no time.  
General emails are boring and usually suffer from low open rates, don't they? With the advanced segmentation feature of Moosend, you can design customize emails to increase the open rate and click-through rate. 
What's more? You can also design behavioral email campaigns based on the report of your customer's behavior with Moosend. 
Lastly, you can also integrate several social media platforms with Moosend to ensure a smooth flow of information.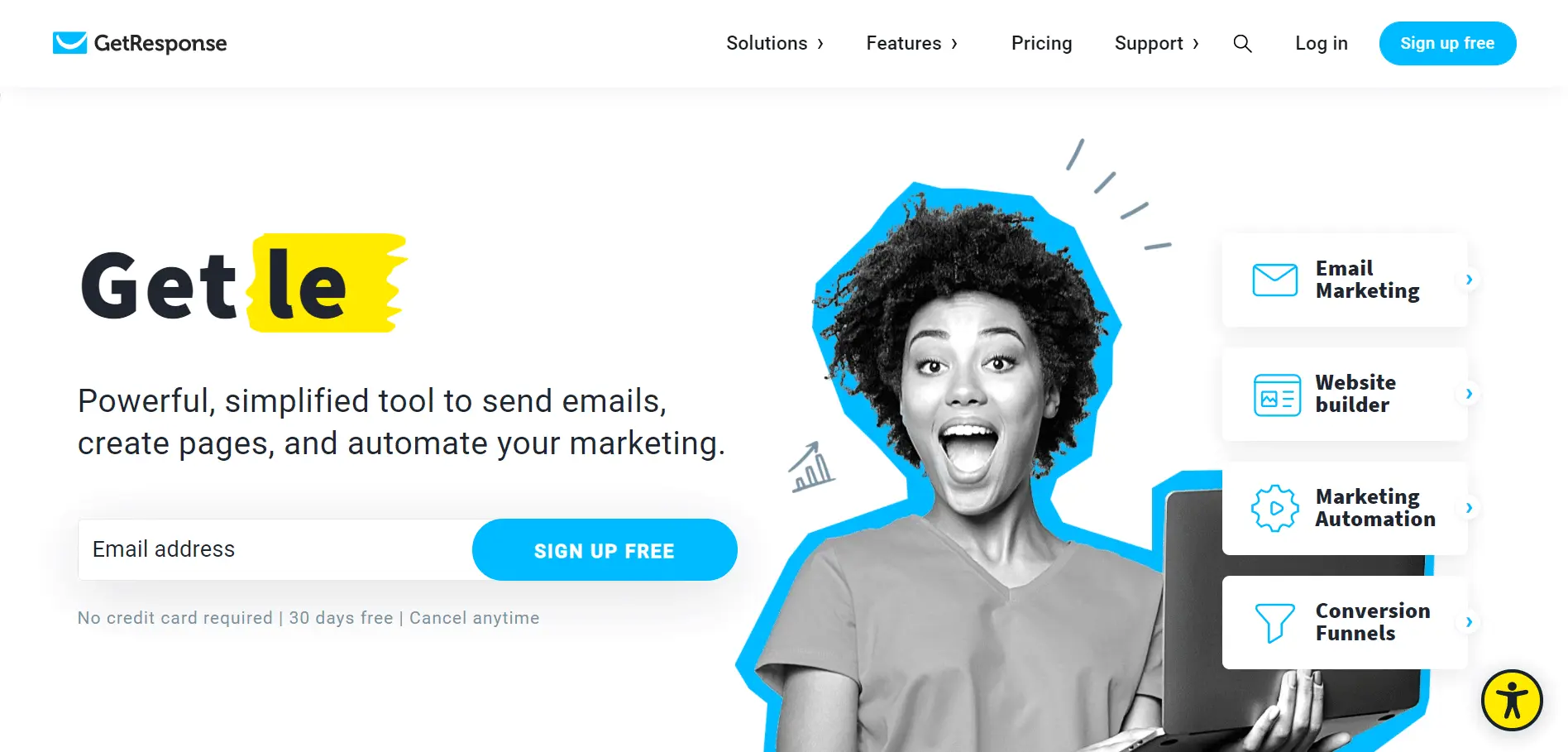 Website: www.getresponse.com
GetResponse is another amazing email marketing tool that comes with numerous unique features. 
With the smart marketing automation program of GetResponse, you can easily create delightful email campaigns. GetResponse has a unique drag and drop feature to help you create numerous customized emails in no time. You can segment the audience, run various campaigns at the same time, and accomplish many objectives with the help of GetResponse. 
The platform offers a 30 day free trial to its users. After the trial period, its subscription costs from $15 per month to $99 per month depending upon your plan. 
Through GetResponse, you can conduct A/B testing, get responsive designs, along with autoresponders and unsubscription tracking. 
What's more? You can integrate GetResponse with Google Docs and ZenDesk to maintain a smooth flow of information.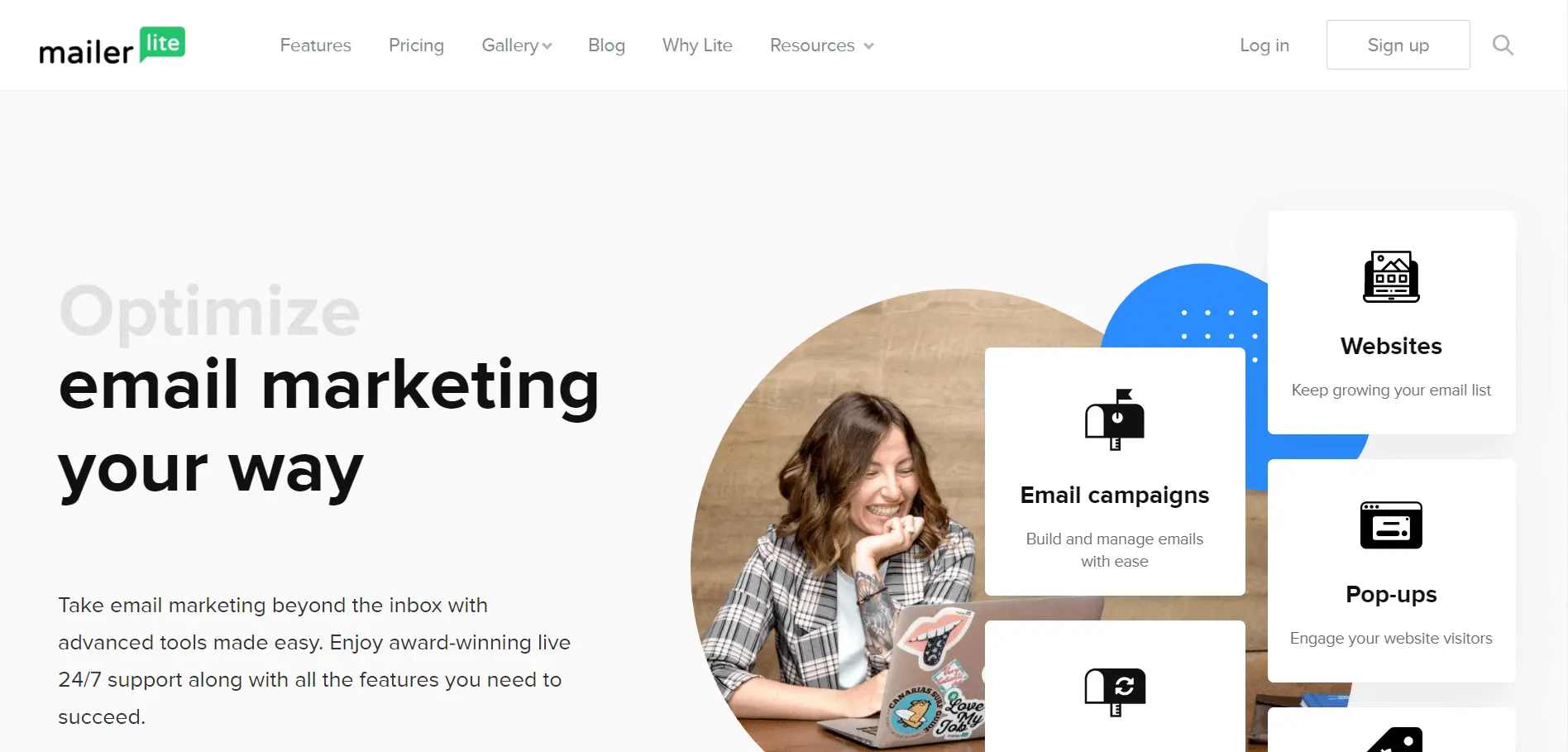 If you're an early startup or small business looking for a swift email marketing tool then give a shot to Mailerlite. 
Mailerlite is a comparatively newer email marketing tool with unique and sophisticated features. It allows you to build customised email templates and landing pages with its rich text editor and in-built photo editor. 
 With Mailerlite, you can split your email campaigns to check their efficiency. Moreover, this tool also provides comprehensive reports of important statistics like open rate, click-through rate, unsubscription rate and more. 
Mailerlite offers free as well as paid subscription plans to its customers. The free plan works well for small businesses. Their paid plan ranges from $10 per month to $50 per month, depending on your chosen plan.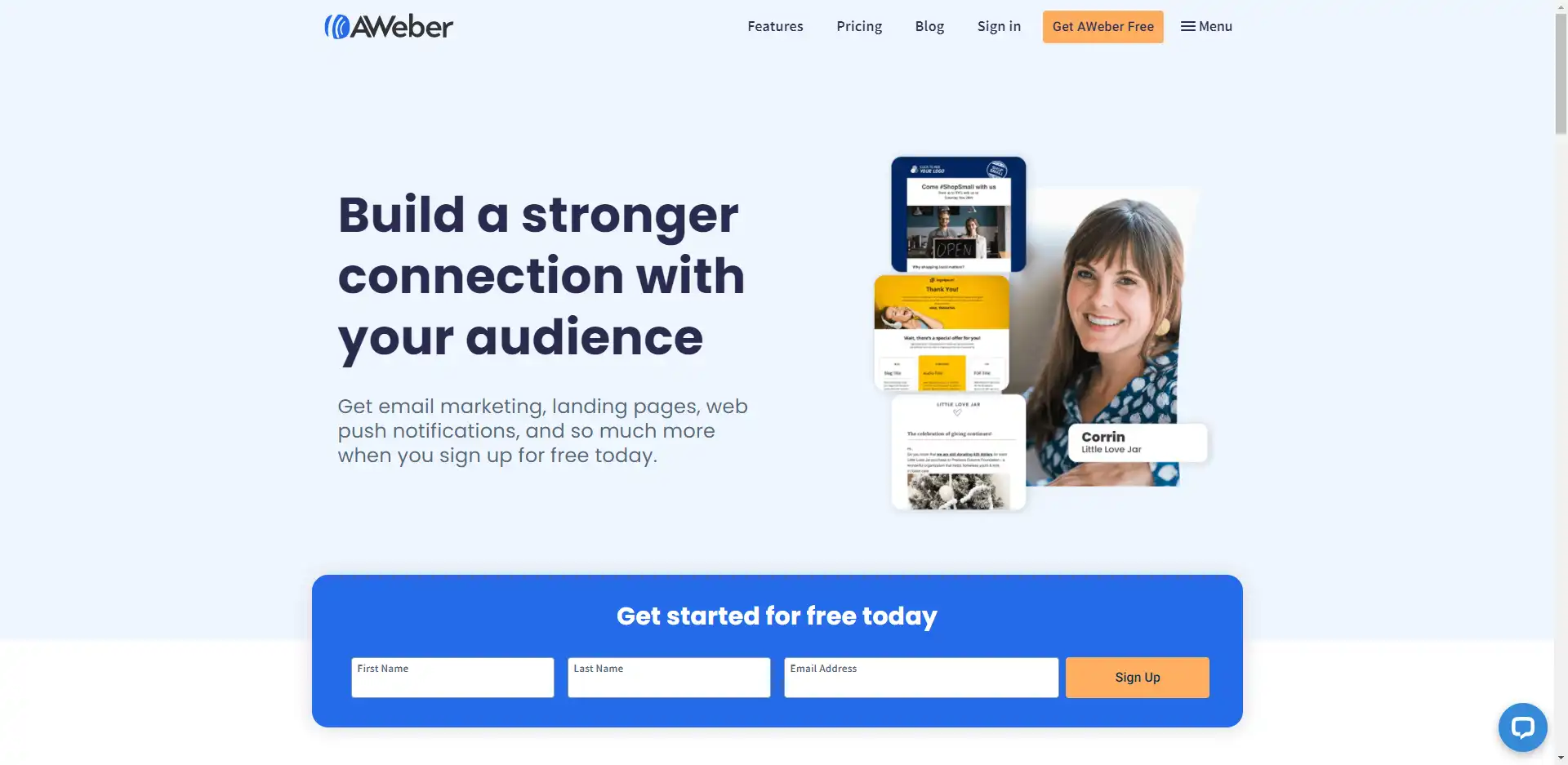 AWeber is one of the most lucrative and traditional email marketing tools present in the market. With its easy-to-use features, AWeber allows small businesses to create effective marketing campaigns without any hassle. 
AWeber can seamlessly connect with WordPress and other communication platforms. The tool allows you to access numerous email templates, set autoresponders, conduct A/B testing, along with email tracking and reporting. 
It offers a free plan for 500 subscribers' email list. After crossing the limit, you can buy paid subscriptions starting from $19 per month. AWeber users can access unique features like AMP emails, RSS-to emails and tag-based subscriber segmentation through a paid subscription.
8) Hubspot's Email Marketing Tool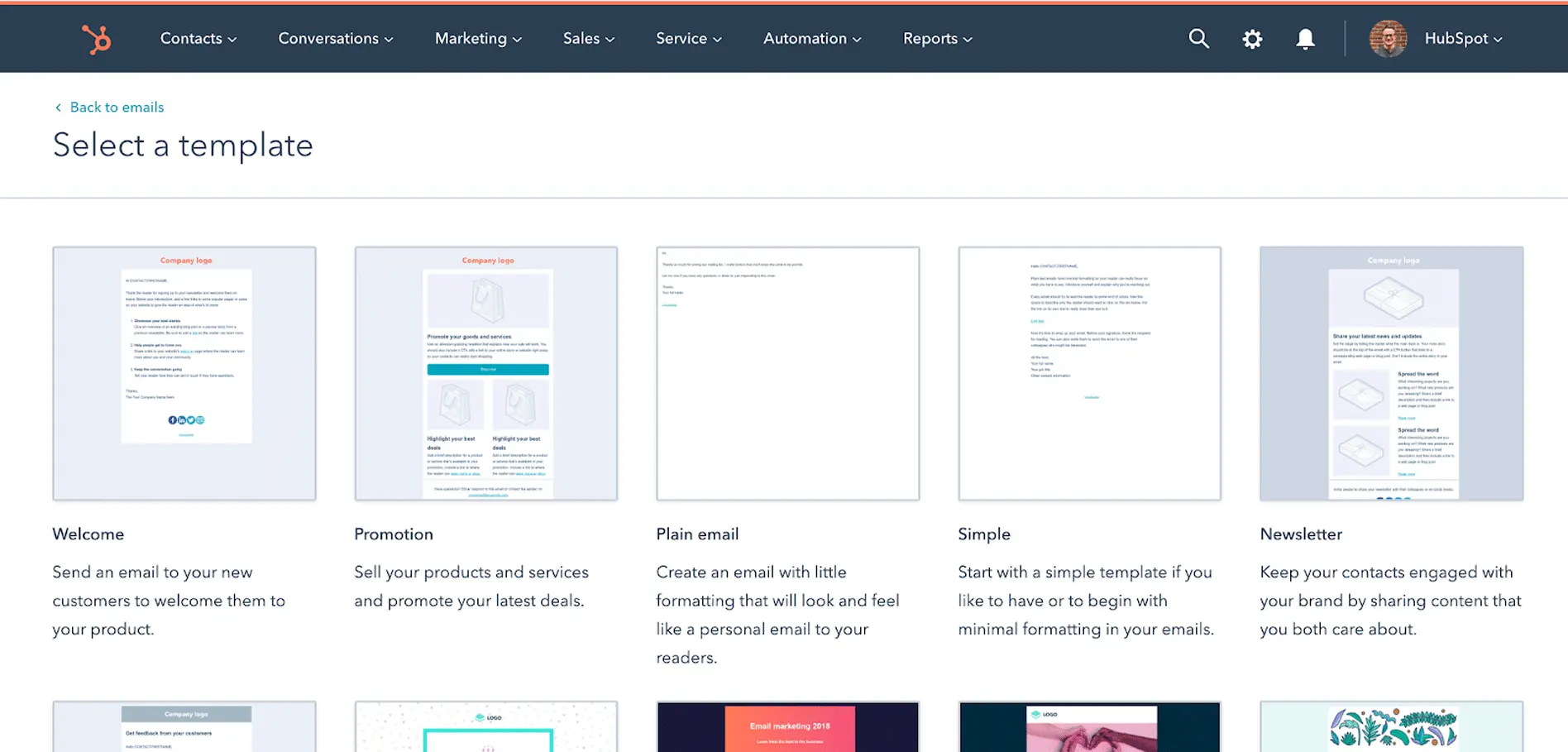 Hubspot recently launched its email marketing tool for every business across the globe. Currently, Hubspot's Email Marketing Tool stands at the fourth spot in the leading ESPs ranking. 
With Hubspot's  Email Marketing Tool, you can instantly send bulk and personalised emails in no time. 
Though the tool is forever free to use, it also has paid plans for large businesses looking for professional features. Through the free plan, you can create customised emails with vibrant colours, fonts and images or select from an array of email templates available on the platform. Moreover, you can easily integrate email software with other Hubspot tools to have a smooth flow of work. 
So, if you want to pace up your email marketing process without spending huge bucks then switch to Hubspot's  Email Marketing Tool.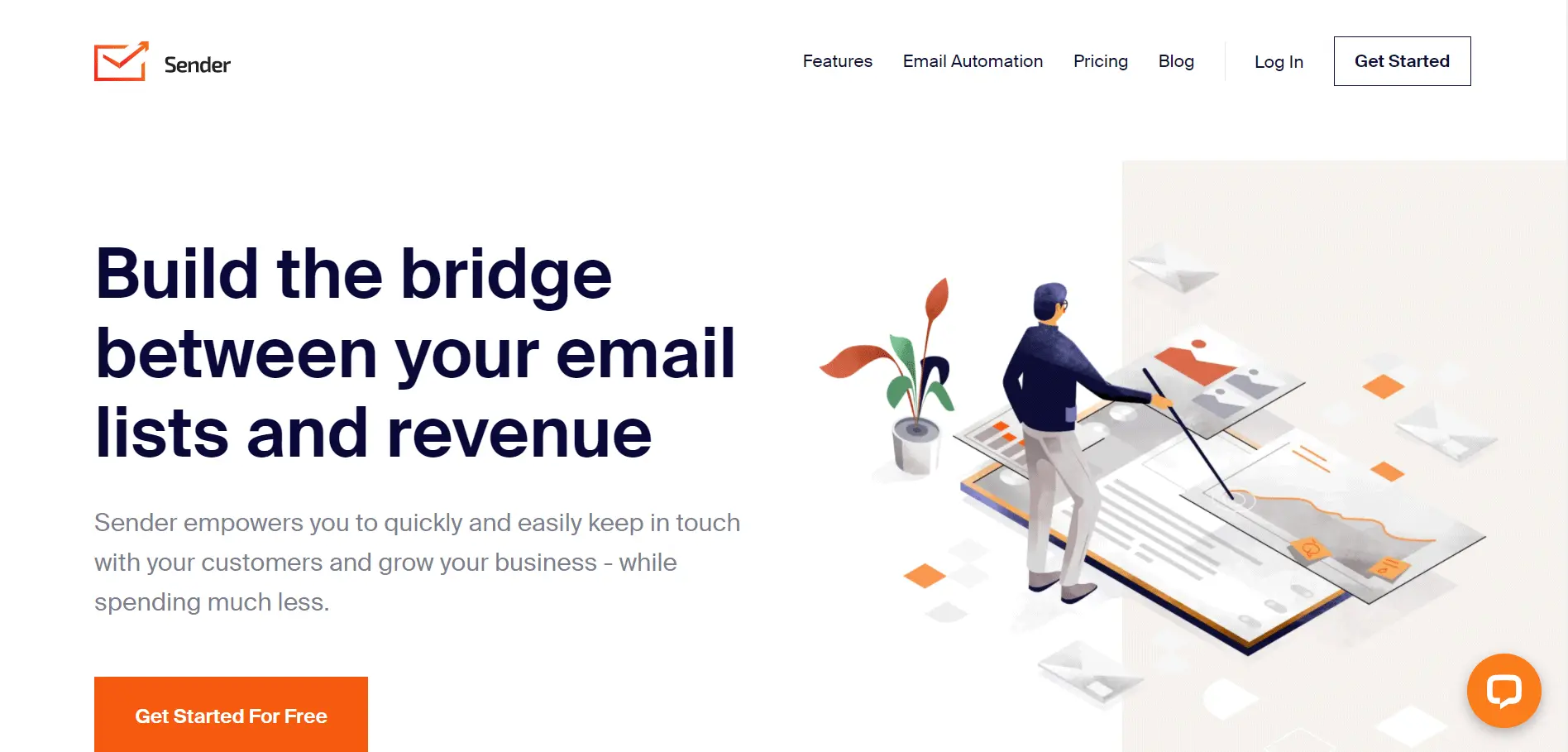 Just like many of the email marketing tools in our list, Sender.net is easy to use and beginner-friendly. The tool allows you to create intriguing and professional-looking emails in the least amount of time. You can either choose the best email template of your choice or build your own on Sender.net. 
Sender.net offers a drag and drop feature, free templates, responsive emails, HTML editor, etcetera for an exuberant user experience. 
It offers a free as well as a paid subscription plan to suit your needs. The free plan works seamlessly for an email list of 2500 subscribers allowing the user to send 15000 emails per month. Their paid subscription starts from $39 per month offering additional benefits and unique features.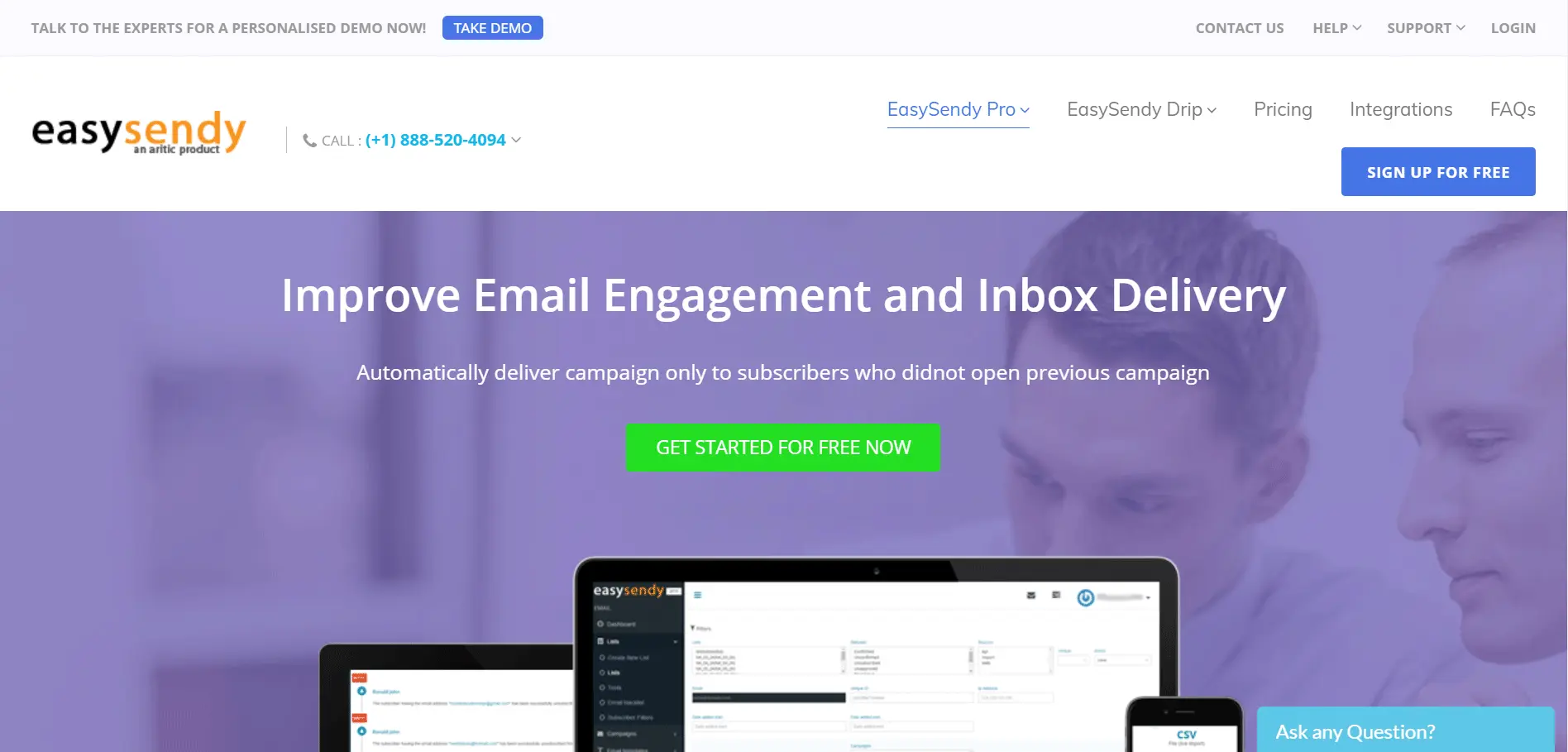 Next is Easysendy, another email marketing tool suitable for every business. You can integrate this tool with WordPress and many other communication platforms. 
With Easysendy, you can create unique email marketing campaigns in less time. Easysendy includes features like drag and drop, autoresponder, free email templates, a system for creating unique templates, audience segmentation, and scheduling emails. 
Subscription plans for Easysendy start from $19 per month and extend to $349 per month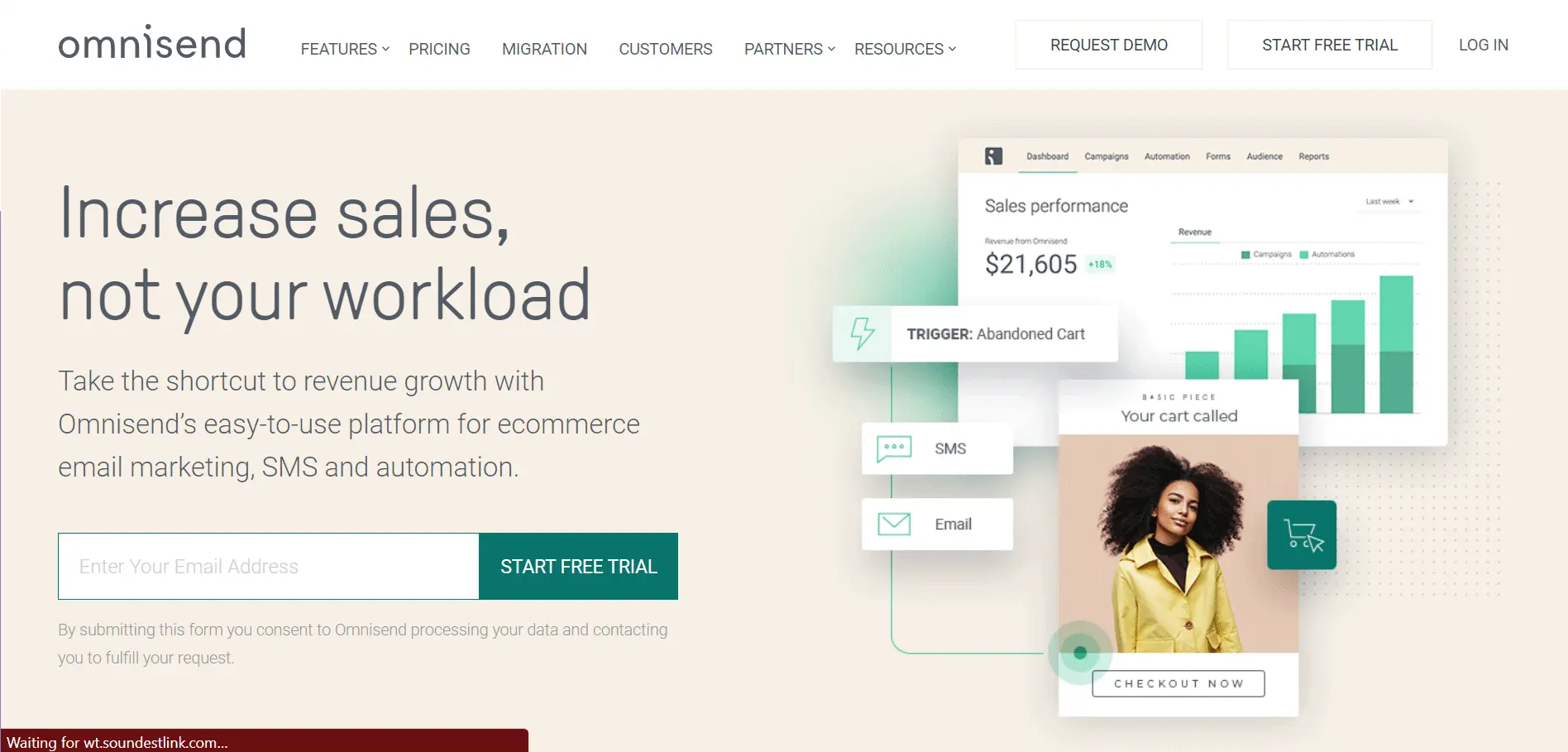 Omnisend is a popular eCommerce marketing platform and a one-stop destination for all your communication platforms. Through Omnisend, you can create and run hassle-free SMS and email marketing campaigns. 
If you're a small business or an early startup, Omnisend might be a perfect fit for you owing to its sophisticated features and affordable plans. 
Just like many email marketing tools, Omnisend too offers a lifetime free plan with certain limitations. However, the free plan works impeccably for conducting email campaigns, creating sign up forms and reports, doing customer analysis and audience segmentation. 
Their paid plans range from $16 per month to $99 per month offering additional features and benefits. 
Omnisend provides comprehensive audience insights to help you create relevant and personalised emails for your customers. 
What's more? With Omnisend, you can create engaging emails consisting of scratch cards, coupons codes, gift boxes, etcetera to improve conversions.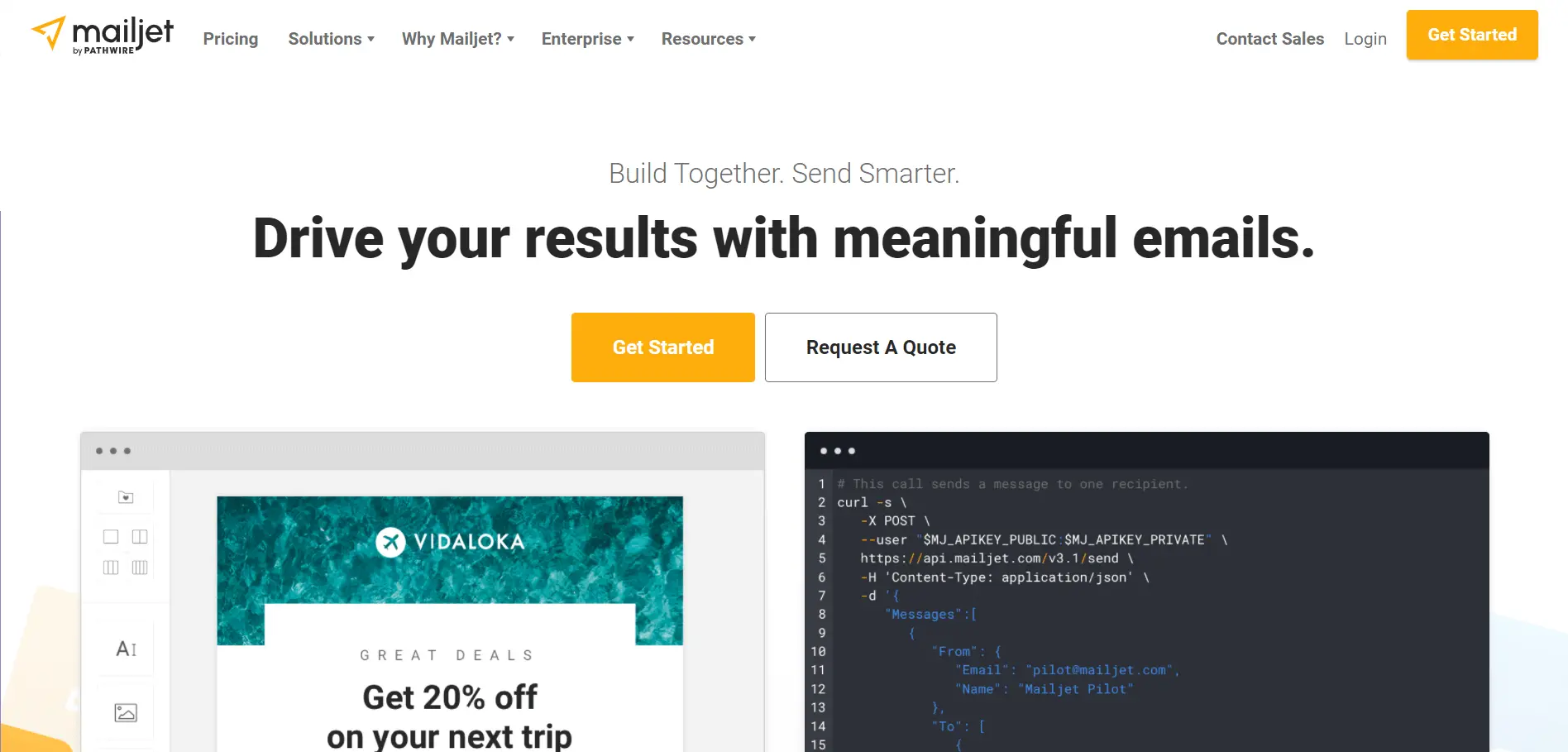 If you're looking for sophisticated email marketing software then MailJet is a better option for you! 
MailJet allows you to create effective email marketing campaigns with its advanced tools. 
With Mailjet, you can customise your existing campaigns and create new campaigns without any hassles. What's more? You can coordinate with your team anytime and anywhere through MailJet.
Just like Mailchimp and Sendinblue, MailJet also offers a lifetime free subscription with limited features. However, its paid subscription costs from $9.65 per month to $20.95 per month. The paid subscription allows you to send unlimited emails, conduct A/B testing, along with marketing automation and several more benefits. 
So, create customised content for your audience in an instant and get the best result with MailJet.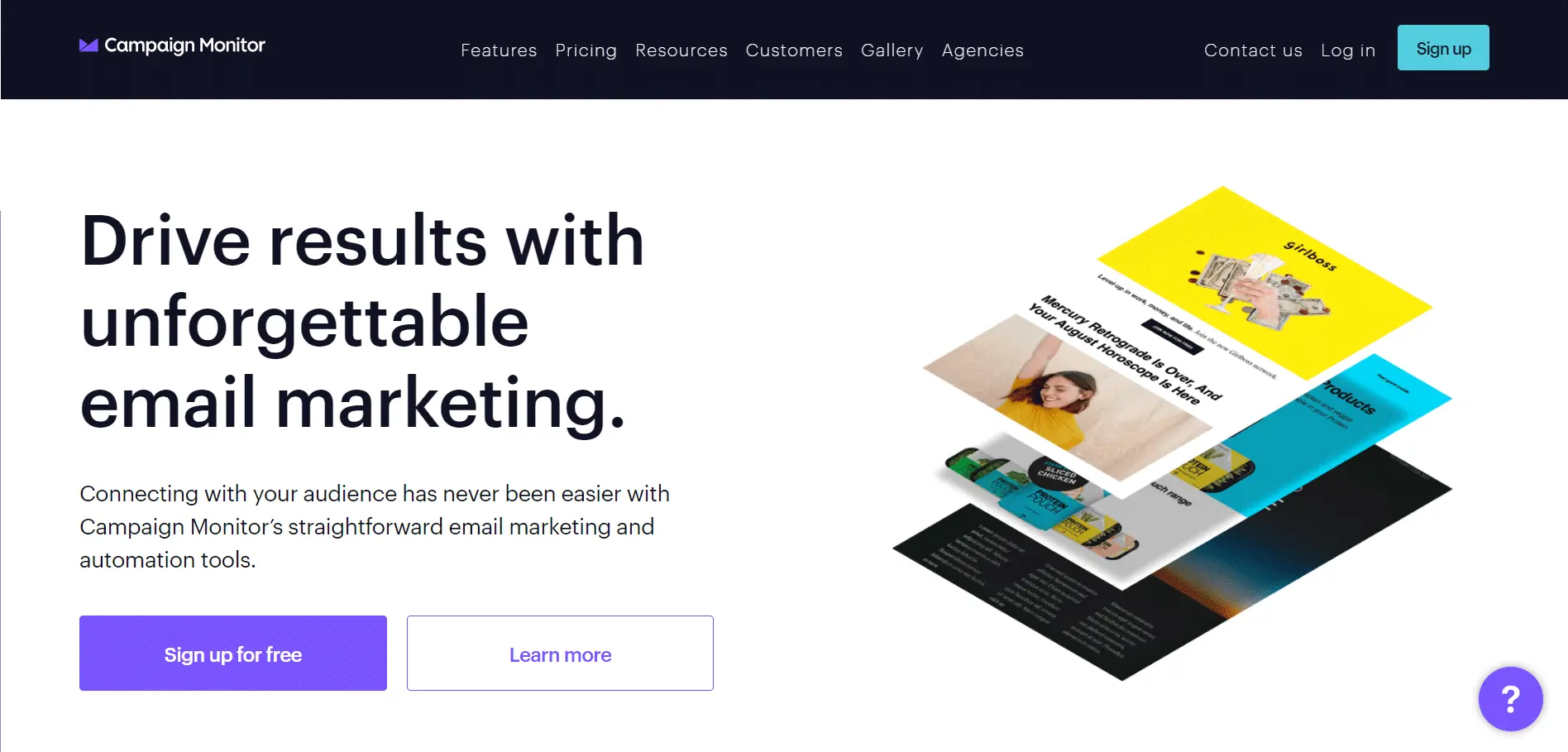 Last but not least we have Campaign Monitor, the tenth leading email marketing software across the globe. 
Campaign Monitor is an email marketing software that allows you to send mass emails, manage and track your email list, and more. 
With Campaign Monitor, you can simply segment your audience and send personalised emails within a few steps. Moreover, you can set automatic drip emails through Campaign Monitor for your new or existing customers. 
What's more? You can also create signup forms and custom landing pages through Campaign Monitor within no time. 
Their subscription plan ranges from $9 per month to $149 per month, depending on your chosen plan. 
With its Unlimited and Premier plan, you get access to a free image gallery, time zone sending, spam testing, and many more unique features to pace up your marketing process.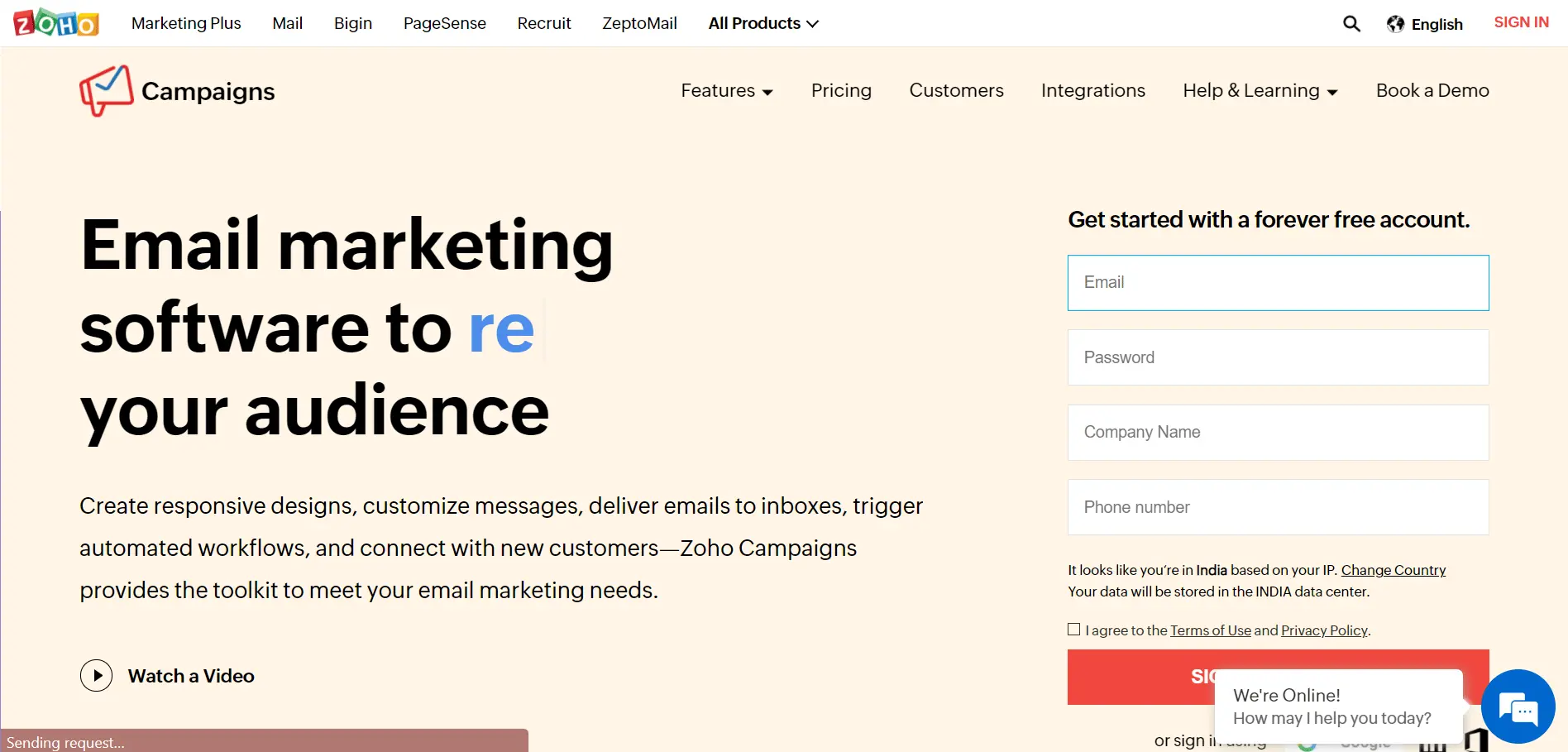 Zoho is an easy-to-use email marketing software. It has 3 sections – Basic Details, Content, and the Audience. In the Basic Details Section, you can select the campaign name and email details. 
For the campaign to be completed, you have to input the campaign details and also select the recipients. In the Content section, you can add images, drag and drop items, and input any text you want in your email. Select a layout and format you prefer and use it by default in every email campaign. Pricing for Zoho starts at $5 per month.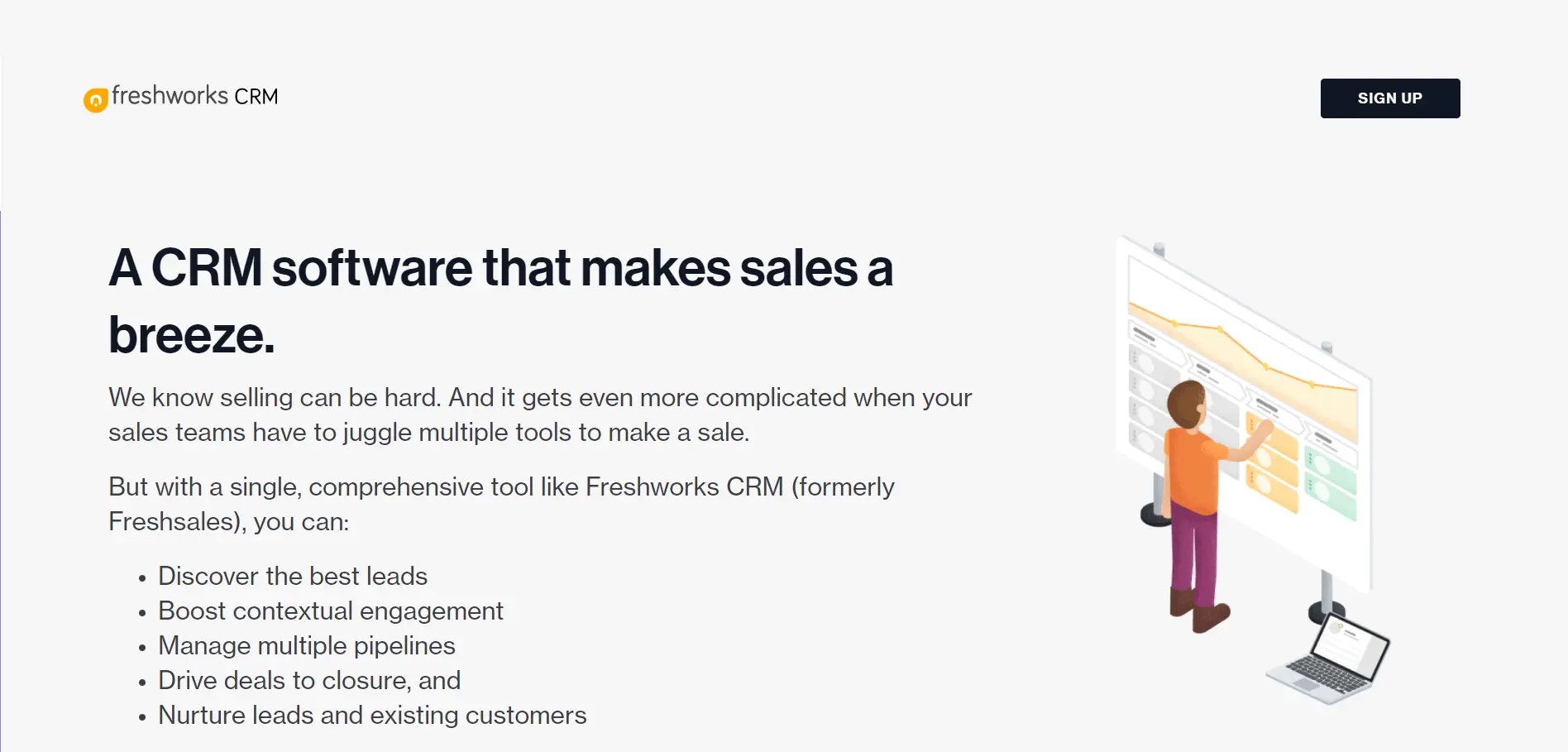 Freshworks CRM is another fully-featured marketing automation software. As the name suggests, it is a CRM first. This feature enables businesses to obtain deep consumer insights and make well-targeted marketing campaigns. 
Freshworks CRM has best-in-class email marketing tools that can convert your subscribers into paying customers. Whether you're an ecommerce business or a B2B service business, with Freshworks CRM, you can automate journey emails like welcome emails, invoices and reminders. 
What's more? Monitor the performance of your email campaigns with analytics. From open and click rate to conversions, you can track every metric. Freshworks CRM offers a 21-day free trial.
Over the years, Email Marketing has stood the test of time and proven to be one of the effective marketing techniques. If you're a B2B business, email marketing can be one of the best techniques for lead generation. For an eCommerce business, Email Marketing can skyrocket your sales. From journey emails like transactional, cart abandonment to well-planned educational emails and newsletters, Email Marketing is all about diversifying the content. It's about sending the right type of email at the right time. 
Engaging content coupled with the right selection of email marketing tools can give you colorful results. Using these tools, you can build a comprehensive email list and schedule and send emails to your potential customers.
Eiosys is a leading offshore software development company in India. Our bouquet of services includes app development, website design and SEO. If you have any service requirements, fill our enquiry form and one of our team members will get in touch with you.