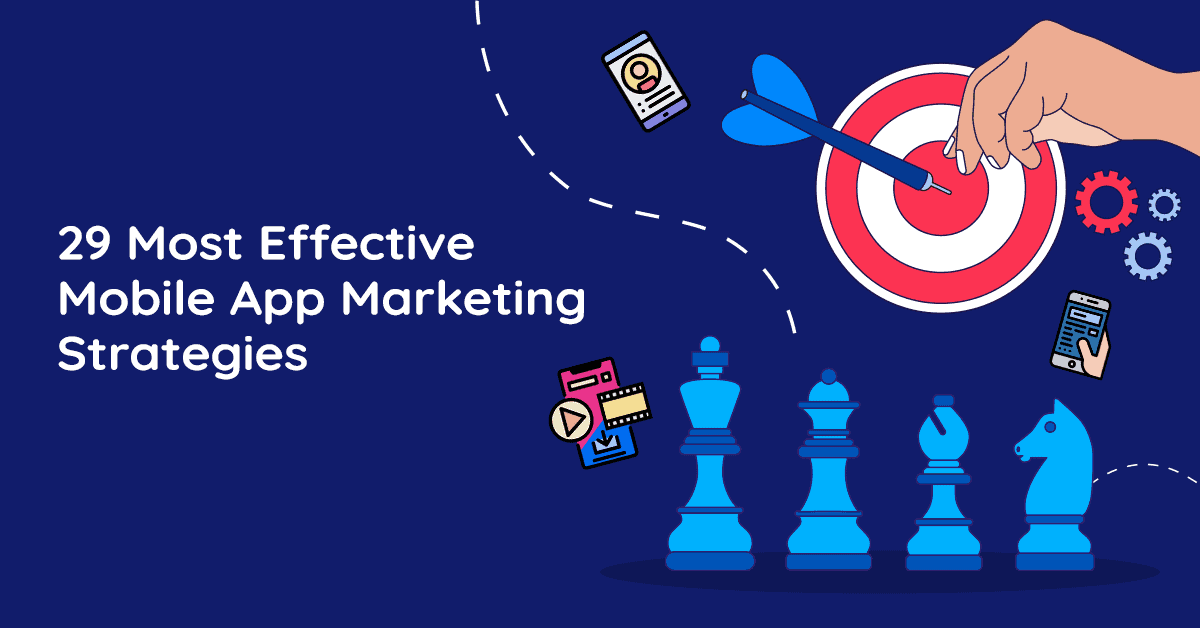 App Marketing Strategies: The Complete Guide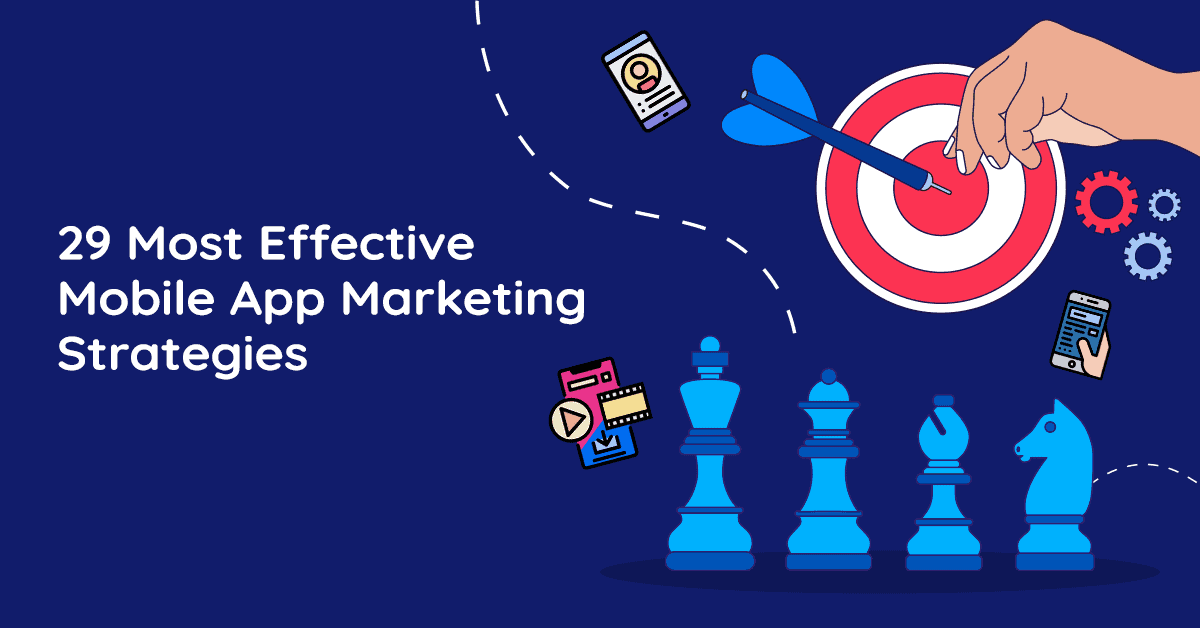 Creating a mobile app opens a sea of opportunities for you. Have you developed an app and published it on the app store? If yes, great. It is a promising start in the world of mobile apps. However, is this enough? No! In fact, the actual work i.e. to promote a mobile app starts now!
Your mobile app may have the best design, easy navigation, user-friendly interface, however, having a mobile app marketing strategy in place is pivotal. Your mobile app may be the best in the world but like any other product, you need to go hammer and tongs to promote it. Otherwise, your technically advanced app will just be another app in the hundreds of other apps on play store. You have to put effort to make it stand out from the competition.
What are the best mobile app marketing strategies? How can you promote your app without breaking the bank? How can you increase your app downloads? This blog will help you find answers to all these questions. Read on to know some most effective mobile app marketing techniques.
App screenshots give a great first impression to users. Uploading real-time app screenshots is the most effective way to increase app downloads. Enhanced app screenshots significantly increase the likelihood of app download.
The live app screenshots help reduce user acquisition costs, especially during launches and marketing campaigns. App screenshots shouldn't be picked randomly. You should choose the screenshots that best explain the purpose of your app.
2) Leverage the Power of Social Media
Being more active on social media platforms helps you reach your target audience. Social media strategy is the key for App promotion. Creating your App accounts on popular social media platforms like Facebook, Twitter, YouTube, and LinkedIn will help you reach a wider audience.
You should tailor a unique social media strategy for all social media platforms. By creating quality content, posting user testimonials, and collaborating with influencers, you can ace the social media strategy.
Encourage your audience to engage with your content. Add CTA's to download the app and review it.
You can even utilize these platforms for research. You can get to know the interests and activity of your target audience. Accordingly, you can promote your app.
3) Mention the App Link in your Business Emails
You can start mentioning the app in your emails while conversing with people. It can be an app icon, name or even a download link. This will help you to promote your app in a formal way. It can capture the attention of the recipient.
They may download the app and also recommend it to people in their network. These small things can make a lot of difference.
4) Create a Teaser of your App
Videos can be a turning point of your mobile app marketing because promotional videos allow people to see the main features, design, and user interface of your app. A 30-second dynamic video is all you need to impress your audience and encourage them to download your app.
A mobile app demo video, to be precise, lets your viewers know about your app and its functionality. You can display the key USPs of your mobile app in the whole video.
5) Include App Download Links on your Website
Many potential users who visit your website may find your business captivating. Maybe, the solution you offer is exactly what they have been searching for. There are higher chances they will download your app. However, they will have to go to the app store, search for your app, and then download it.
This process is tedious and cumbersome. The users may probably lose interest or even forget to download the app. Hence, it is better to include your android and iOS app download links on your website. This will enable the users to easily download your app.
You can collaborate with social media influencers to promote your app. All you need to look for when choosing mobile app influencers is quality content, storytelling abilities, and an influencer's connection with his/her followers. Moreover, you also need to determine whether you can reach your target audience by collaborating with a particular influencer.
An influencer you select should be able to align with your app solution or its persona. When approaching an influencer, be very clear about what your business is all about and what you expect from them. Influencer Marketing can skyrocket your reach and increase its downloads. Moreover, it offers a great ROI, surely worth a try!
7) Create an eye-catchy App Icon
The icon of your app is the first source of engagement for a user. With a myriad of options available on the App Store, an app icon can catch a user's attention and entice them to click it and know more about the app. A visually appealing app-icon makes your job half done.
8) Collaborate with Guest Bloggers
One of the essential elements of each app launch or promotion campaign: pitching journalists and bloggers and inviting them to try your app, review it, and speak about it. By pitching bloggers, you will  get your app reviewed by legitimate and well-connected sources. This will have a robust effect.
It will increase your reach and probably lead to higher conversions (downloads).  You can shortlist the relevant journalists and bloggers in your industry. Spend time to understand their profile and write customized emails to them. Customized emails will help you get positive results. Similarly, you can even get in touch with guest websites to feature your app.
9) Identify the Right App Store
It is crucial to identify the right app store as per your business goals. Google Play Store and App Store are the primary choices of the majority of brands. However, there are more app stores where you will be able to distribute and market mobile apps.
Before choosing an app store, consider the specific regions you would prefer to target.  There are plenty of app stores such as Opera Mobile Store, Amazon Appstore, MI Store, and many more. These app stores have reasonable registration fees and massive user reach. Also, they may have lower competition than Play Store or App Store. You can identify such stores and promote mobile apps.
10) Make a Demo Version of your App
There is a reason that freemium is a leading model for apps. It is the most effective way to exhibit to a potential customer the efficiency of your mobile app. Providing a free version of your mobile app enables you to capture user's information and upsell them later.
Offering a free basic version of your mobile app gets a quick buy-in with the least refusals. It lets customers buy additional features of your mobile app for a fixed price or a monthly subscription once they are hooked with your app.
11) Apply for App Rewards
Mobile app award programs come in different shape and sizes and for different audiences. Some awards like best new mobile app and best mobile app design award are some of the latest in the industry. However, applying for mobile awards can amplify your app marketing.  App award nominations and winner tags help you to build trust and reliability among the new users. They also help your app stand tall amongst the other competing apps in the same niche.
12) Get Featured on Mobile App Review Sites
Many app review websites give comprehensive information of mobile apps in the form of reviews. The app review websites like Producthunt, Mobileappdaily, 148apps, and Feedmyapp are some of the prominent mobile app review sites. First of all, it is important to identify a listing of such websites and later send them personalized pitch to request the app coverage.
You need to contemplate the following factors before shortlisting an App review website: you have to make sure that the website has a good readership, and you can figure this out using any traffic tool easily; you must check the demographics of the traffic they are receiving.
The readers will engage with your app if they find its features and applications interesting.
In the Email marketing technique, you send emails to potential users to build a long-term relationship with them and convince them to download/use your mobile app. To ensure that your email marketing campaign is a hit, it is again necessary to target the right set of users. Doing full-fledged research is imperative for the success of email marketing campaigns.
Always write a catchy subject line, it generates a curiosity in the reader's mind, This curiosity propels him to open the email and engage with it. When you personalize the email content as per the users' interest, they pay more attention to the information shared and show more motivation towards taking the recommended step. Adding a CTA (call-to-action) button to your mobile application is a good idea to get the user to download the app.
A referral program is an excellent marketing strategy to get more users to download your app. It is cheap yet the most efficient one. You already have a set of users who use your app. Get them to share your app link and offer exciting rewards to them on every successful download.
Users need a social proof before using any app, and a referral program helps your app gain more acceptability. The cost per acquisition is quite low. Since the users download the app willingly, they're more likely to use your app, thereby ensuring brand loyalty. It's a win-win situation for both users and your brand.
15) App Store Optimization (ASO)
App Store Optimization is another core app marketing strategy. It improves your app visibility within the app store.
More than half of mobile users use the search bar on the app store to find new apps. The higher your app ranks on the app store, the more relevant it appears to the users.
Similar to SEO, App Store Optimization also focuses on relevant keywords, keyword density, user-friendly content, and user experience. A full-fledged keyword analysis is the foundation of the ASO technique. Writing optimized app descriptions, clear and concise title, and relevant reviews will help you ace the ASO strategies with ease.
ASO can help you increase your organic installs. By focusing on organic growth, you can cut down your ad spends on the app store and decrease the acquisition cost. ASO is a long-term mobile app marketing strategy.
16) Communicate the Problem your App Solves
A successful product is the one that solves a consumer's problem or changes their lifestyle. What solution does your app provide? How can it improve consumers' lives? It is imperative to have answers to these questions. These answers will be the USP of your app. Your app must have a sense of purpose.
Moreover, it is crucial to communicate this purpose to the consumers. For example – If you have designed an app which delivers food to consumers, you can communicate the solution to your clients through taglines. "Delivering your favourite dish at your doorstep". There are various other ways of communicating your USP, you can select the one that works the best for you. However, communication is the key.
17) Respond to all User Reviews
Responding to all the reviews on the app store gives a good impression to potential customers. It makes them feel important and shows them that you care about their experience.
You need to make sure that you respond to all the reviews on a regular basis. This tactic will also help you stand out from your competitors in the same niche. Moreover, it also helps in app store optimisation i.e. helping you achieve higher rankings on Google Play Store or Apple App Store
18) Create & Share How-to Videos
The How-To video format is the most trending way to teach viewers. It's a clear set of steps to complete the task on board. At the end of the video, the viewer should be able to take the same steps and complete their task.
Similarly, you can create a How-To-Video for your mobile app, wherein you can demonstrate how to make the best use of your app. Tell them about the special features and build up confidence among them. You can post how-to videos on your social media channels and your website.
19) Host an App Launch Party
Announce your app launch in style! Throw an app launch party and invite some press and your potential customers. Ask people to download your app, use it, rate it, review it, and share it in their network. An app launch party can be a phenomenal marketing method to kickstart your app business.
You can also start a live streaming of your app launch party and share it on social media. Let people witness, participate in the entertainment and most importantly, help you promote mobile app.
An app directory that focuses on free and paid apps, with ranking and pricing information available upfront. You can submit your mobile app for free on app submission sites to increase your app downloads. App directories such as Appszoom, Apppicker, and Alphadigits are some of the credible app directories.
This will help you boost your app's reach and promote mobile apps. There are many such sites available for submitting your mobile app and you have to choose a site that suits your app well.
21) Utilize Facebook & Instagram Ads
Facebook & Instagram have a wide user base. Promoting your mobile app there can help you capitalize on that. It is a great user acquisition channel for mobile apps.
It can help you get in front of specific motivated segments of your audience with some powerful ad targeting options.
It helps you map your target audience as per geography and age group. Further, there is a detailed targeting as per mobile operating system, language, browser, and much more. This targeting feature will help you visualize what your target user looks like! Moreover, Facebook and Instagram ads are quite affordable than other paid media. You can easily monitor and optimize your ad campaigns.
Blogging is one of the simplest ways to create some buzz about your mobile app. A full-fledged blog strategy can do wonders for the promotion of your mobile app.
Before writing, you can do some keyword research and also use some tools for content research.  You can write blogs around a plethora of topics such as features, applications, and benefits of your mobile app. You can also write content pertaining to the industry topics which would get more engagement.
23) Send Monthly Newsletters to Clients
A newsletter marketing strategy will help you increase awareness and understanding of your mobile app among potential users. Newsletters are effective in promoting your mobile app features and benefits. They can help in passing information on special offers and new functionalities as well.
Sending newsletters monthly helps you to maintain contact and rapport with customers and prospects. The best method for creating a newsletter is to follow the 90/10 concept which means 90% information and only 10% sales material. Adding a CTA in your newsletter will make it easier for them to reach out to your mobile app.
24) Start Youtube Channel
Leveraging the power of Youtube to showcase your mobile app can be a great idea. From how to use your mobile app to showing its best features, you can do it all through Youtube. You can also promote your Youtube channel on other social media platforms.
Through Youtube SEO, you can increase the downloads of your mobile app. While optimizing your metadata you need to remember, you are not just optimizing it for YouTube, but for Google search as well. Check the competition first and if the competition is too high, then start with less competitive keywords. YouTube has a description box so you need to ensure that you put relevant keywords in the description box.
Also, make sure that you include links to your social media pages, website, and other relevant links related to your mobile app. You can even use YouTube paid Ads to promote your mobile app.
Affiliate marketing is a powerful way to market your app. There are mobile app affiliate marketing portals such as CPAmatica, Mobidea, Crakrevenue and many more specialize in affiliate marketing for mobile apps. Affiliate marketing allows you to pay only when an action has been taken for your app through affiliate marketing. After an action like a click, sign up, install or a purchase has taken place then only you will pay your partners according to the commission structure.
You need to offer them a commission structure that seems very lucrative to them and they agree to invest their time and effort in your mobile app. Provide them with a huge range of marketing materials, such as links, promotions, and visuals, to use for your app.
So if you're planning to launch your first app, don't burden yourself with the additional effort of marketing your app. Marketing your app through affiliate marketing will save a lot of time and money.
26) Comment on Relevant Blogs
When you leave your comments on blogs/websites within your niche, it helps you build a good relationship with that author/website. Not just that, you can also get noticed among the active readers of that blog.
If you post informative comments and add value, the readers will be tempted to visit your website and know more about you. In this way, you can gain traction on your website as well as the mobile app. In some cases, you can directly promote your app and encourage people to use it.
Infographics are a great way to engage users. You can share crucial information with your target audience using visually appealing infographics. You can even share trivia, facts, and data using infographics.
Use fun icons and decorative fonts of your choice to make your information stand out. Infographics can also be used to promote your mobile app on social media. In off-page SEO, they can be published on third-party websites.
The user experience reflects the success of your app. Hence, it is recommended to take user's feedback seriously. Always keep an eye on how users feel about your app. Are they facing any technical issue? Is your app loading slower? Is there any issue with the graphics?
Periodically, you can take user surveys to know the performance of your app. Giving users what they need is the best way to keep them engaged with your app. They are the brand advocates of your app.
A giveaway can be a phenomenal way to enhance the reach of your app. Ask your audience to do a particular task. It can be to participate in a contest, social sharing or reviewing your app. As a reward, give them a free product, a free subscription or any other gift. A kickass way to build your brand reputation.
When it comes to mobile app marketing, the sky's the limit! However, make sure you get the basics right. i.e, understand your target audience and devise marketing strategies accordingly.
From conventional digital marketing to referrals and rewards, you can come up with ample strategies to take your app to the next level.
Eiosys is a leading mobile app development company in India. We have helped several companies create and launch their custom Android and iOS apps.
What is Mobile App Marketing?
Mobile app marketing is the process of promoting your app to potential users through a digital or physical medium. A good digital marketing strategy would have you increase your engagement rate and user retention rate.
What are the best ways to promote an app?
There are many ways you can promote your app. Some of them are Social Media, Giveaways, Affiliate Marketing, Create & Share How-to Videos, App Rewards, Collaborate with Guest Bloggers, Influencer Marketing, Search Ads, word of mouth, and more.
How to create a good marketing plan for your mobile app?
A good marketing plan for your app should start with knowing your target audience and then building a website. Then start with (ASO) App Store optimization and a good content marketing strategy. After which you can go for paid add promotions and then track and test the whole process.
What are the major benefits and ways of app marketing?
It helps you reach out to our targeted audience, increase app downloads and ultimately enhance your customer base. The best ways to do this would be to focus on App Store Optimization (ASO), promote the app on your website, use email marketing tools, use social media marketing, blog posts, create In-App and Online Ads, develop a Public Relations Strategy and create Offline Campaigns.
What are the ways to get my app featured on other websites?
Here are two ways you can do it and include it as your social media marketing strategy: Guest post - Writing posts on other websites is a good way to put your app in front of an existing website's audience Influential marketing really helps get more active users and get your app featured on other social platforms.
How do you increase engagement on apps?
Some of the strategies you can try are Push Notifications, Incentive Programs, in-app messages, asking for feedback and choices, ensuring a type of content is engaging, you have a high-quality app, and good app functionality.