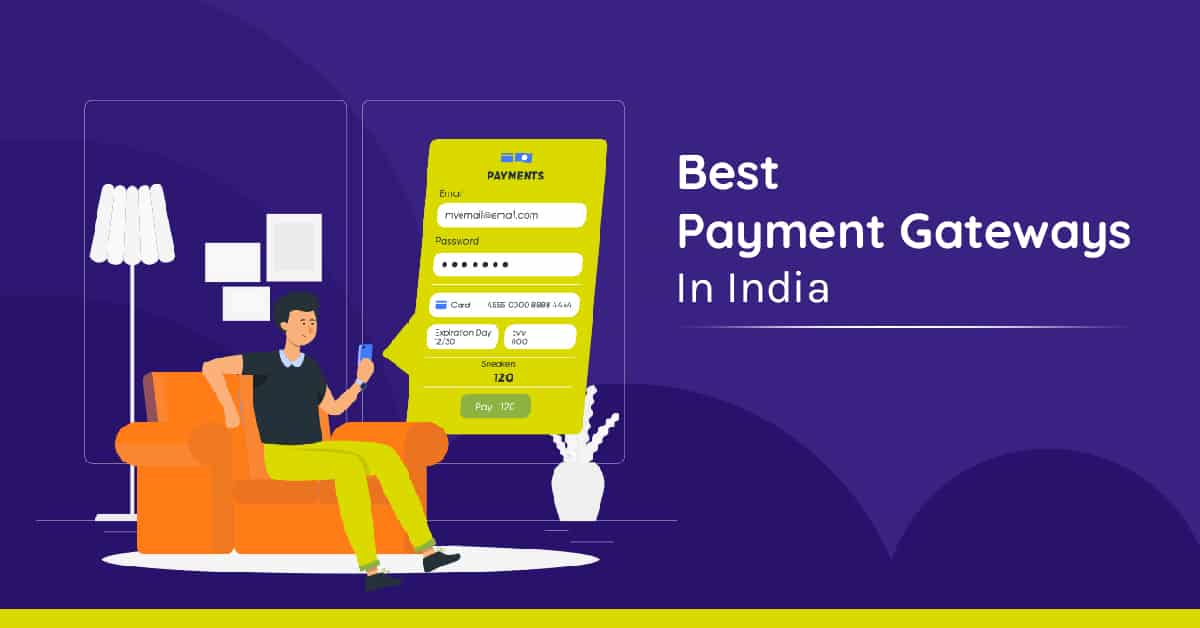 Best Payment Gateways In India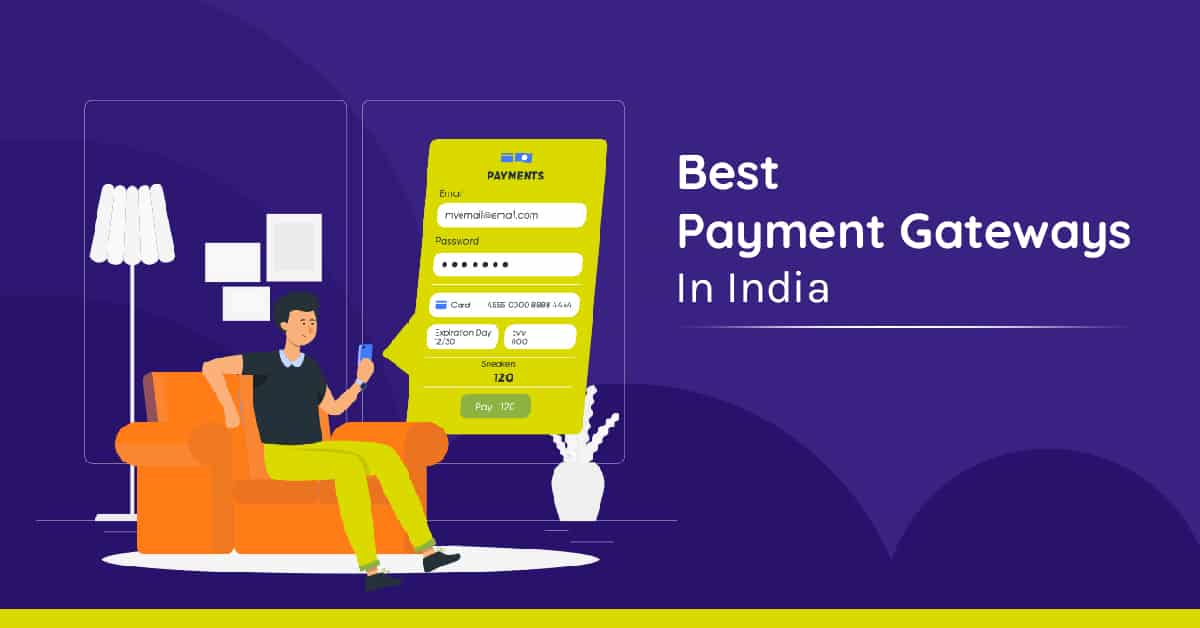 Do you know in India, a humongous 589 million consumers have shopped online in the year 2020? From buying groceries to luxury goods, there has been a paradigm shift in consumer's purchase behavior. 
If there's ever a perfect time to start an eCommerce store, it's now! 
When shopping online, people are increasingly using online payment methods as it is efficient, secured, and guess what? Everyone likes coveted rewards and cashback, isn't it? Online payment is more rewarding than cash on delivery.
For eCommerce stores, a payment gateway is a necessity. To accept payments, you need to have a safe and secure payment gateway on your eCommerce store. However, what is a payment gateway? How to select the right payment gateway? Which are the best payment gateways in India? This blog will answer all these questions.
In simple words, a payment gateway is a third-party system that transfers money from the buyer's account to the seller's account. It permits you to conduct online transactions in a most hassle-free and secure way. 
A Payment Gateway accepts payments from different modes i.e. Credit Card, Debit Card, Netbanking, UPI, and other online payment wallets.
List of Top Payment Gateways in India
Razorpay was founded in 2014 by Harshil Mathur and Shashank Kumar – two IIT Roorkee Alumni. They discovered how difficult it was for small businesses and startups to accept money online. Razorpay was started with an aim to solve this problem. 
Intending to revolutionize the money management for online businesses, the startup has accelerated to build a base of more than 800K+ customers in 4-5 years. 
Razorpay is well known for its super-easy activation and hassle-free integration to websites.
It makes the user experience more easier and convenient with its API-driven automation that requires zero manual intervention.
The payment gateway enables you to accept and send payments through credit/debit cards, net-banking, Pay later facility, UPI, wallets, etc. It also enables you to accept international payments with a real-time currency conversion facility.
Logo:
Industrial Standard Secured Payments

Zero setup cost

Easy and Simple Integration with websites built on Woocommerce, Magento, CS, Shopify, and many others

Real-time currency conversion

No annual maintenance charges

Accept Payments through payment links, buttons, pages, gateway, subscriptions, etc.
2% for Net banking, debit/credit cards, UPI, wallets.

3% for  Diners and Amex Cards, International cards, EMIs (Credit Card, Debit Card & Cardless), Corporate Credit Cards
"Paytm" has now become synonymous with online payment. Laying its roots back in 2010, it is an Indian e-commerce payment system and fintech company headquartered in Noida, India. 
Started its journey as a mobile and DTH recharge platform and took its baby steps by adding data cards, postpaid mobile, and landline bill payments. 
From then, Paytm kept expanding its wings to various fields like Indian railways ticket booking, Movies booking, insurance premium payment, mutual funds purchase, stock trading, etc. It even started its own e-commerce portal by the name PayTMmall.
Within a decade, it has grown to be the largest card payment gateway and UPI payment gateway in India. 
Paytm allows you to accept almost every mode of payment such as wallets, bank account via UPI, Debit/credit card, Net Banking, EMI, and postpaid. It is the hassle-free payments, trustworthiness, and user-friendliness that makes Paytm so unique. Paytm is trusted by thousands of businesses across India.
Logo:
Easy and user-friendly mobile payments

No setup and maintenance charges

Invoice generation

Excellent Customer Support

Recurring billing facility

Can make website payment

Also, enables multiple currency processing
UPI : 0%

Paytm Payments Bank: 1.99% + GST

Paytm Wallet: 1.99% + GST

Credit Card: : 1.99% + GST

For Debit Card: 0.4% + GST for less than 2000,and 0.9% + GST for more than 2000

For Netbanking: 1.99% + GST
PayU is a fintech company headquartered in Hoofddorp Netherlands. The company was founded in 2002. It operates in more than 15 countries. It has more than 100 payment methods – net-banking, cards, wallets, EMI, UPI, and also buy now pay later facility. It also allows businesses to accept payment from more than 100 foreign currencies.
The unique thing about PayU is that it allows businesses to customize the checkout page of their preference. The payment gateway has a simple user interface. It also enables businesses to easily integrate it with websites and mobile apps.
Logo:
Website: https://www.payu.in
Year Founded: 2002
Supports International Payment / Credit card 

Easy and Simple Integration across websites and mobile apps

Track your billings on Dashboard

Supports Domestic Credit cards

Also supports International Payment
2% + GST per transaction

No Withdrawal Fees

Zero Setup Fees

Zero Annual Maintenance Charges

Settlement in 2 working days
CCAvenue is another famous and one of the best payment gateways in India, founded by Vishwas Patel. The payment gateway is fast and secured. 
Its transaction page is fully responsive and provides a smooth checkout experience. Another key highlight of this payment gateway is its Fraud and Risk Identification System which helps you monitor any threat and minimize the risk exposure. 
CCAvenue's Payment System has also built 'Smart Analytics' that offers comprehensive statistical online reports and a transparent view of all transactions in real-time. With more than 200 payment options including more than 14 Credit Card EMI options, 58+ Netbanking, 10+ Online wallets, and much more, CC avenue is a payment gateway to bank upon!
Logo:
Easy Integration on iOS, Android, and Windows Mobile app

API's for shopping carts across platforms like Magento, Joomla, Drupal, WordPress, Zencart, and more

Fraud Detection System

Simple & Fast Account Activation.

Allows International Transactions.

24/7 Customer Support
Startup Pro Plan:
Domestic transactions: 2% + GST

International transactions: 3% + GST

Credit card EMIs: 2% + GST

American Express / Amex Diners Club Payments: 4% + GST

Multi-currency options: 4.99% + GST

Rupay Debit card: 0.00%

No Setup Fees

Annual Software Upgradation Charges: Rs.1200 + taxes

Settlement in 2-3 working days
Atom Tech Ltd is a payment services provider, headquartered in Mumbai, India. Atom was founded in 2006. 
Driven with the ambition to provide payment and banking services through the use of extensive technology, Atom renders mobile payments, interactive voice response (IVR) payments. 
It is one of the fastest-growing payment gateways in India, leveraged by more than 150,000 businesses. It uses a high-security encryption system to maintain optimal security standards.
With Atom, customers can pay through numerous payment options like 10+ credit cards, 45+ Net banking, 100+ debit cards, Bharat QR, 10+ Wallets, IMPS, Challans, UPI, and NEFT/RTGS.
Logo:
Supports more than 100 payment options

Merchant console for merchants to track real-time payment and traffic

Multi-Bank EMI (Gives customer the ease of payment in Installment)

Multiple Gateways to ensure the uninterrupted transaction flow

Payment retry alternative

Invoice Payment.
For Credit cards (Domestic): 1.99% + INR 3 per transaction

For Debit cards: 0.9% per transaction

For Net-banking: 1.99% + INR 3 per transaction

For Wallets: 2.2% per transaction

For Bank's IMPS: 1.80% per transaction

For Credit card (International): 3.95%

No Setup fees

Annual Software Upgradation Charges: Rs.5000 (No maintenance charges for the first year, charges applicable from the second year)

Integration Charges: Rs.10,000 (one-time fee)
Instamojo is one of the simplest payment gateways in India. It was founded in the year 2012. Aimed at bringing SMEs online, Instamojo has extensive payment mode coverage, easy API integrations, the ability to embed payment buttons, and operability over multiple channels.
More than a million businesses leverage Instamojo as their payment gateway. With Instamojo, you can accept payments from more than 100+ payment modes.
Logo:
Invoice payment

Website and mobile application integration

Recurring payment facility

Live Chat Feature

Online store

100+ payment modes
For NEFT/RTGS/Bank Transfer: FREE

For Debit and Credit cards: 2% + INR 3 per transaction

For Digital products and files: 2% + INR 3 per transaction

No Setup Fees

No Annual Maintenance Charges
PayPal is a prominent payment gateway across the world. PayPal, an American company was first founded in December 1998 as Confinity. It was an organization that progressed in security software for handheld devices. But they found no success with that model and hence launched the PayPal electronic payments system in 1999. 
As of 2020, PayPal is used in 200+ nations and has about 346 million existing enrolled users. It also permits consumers to send and receive transactions in 25 currencies worldwide. With PayPal, you can accept and send payments using almost every international credit and debit card. 
In 2021, Paypal is planning to launch a new service allowing customers to use cryptocurrencies to shop at 26 million merchants.
Logo:
QR Code Payment available

Website integration on all major eCommerce platforms

Payment settlement on a daily basis

Fraud Protection Service

Express Checkout.

Supports hassle-free mobile payments.
3% + INR 3 per transaction

No Annual Maintenance Charges
The founders of ZaakPay noticed how difficult it was setting up payment gateways and how businesses had to undergo a fuss involving paperwork. To make the payment system easy for businesses, ZaakPay decided to find its spot among the best payment gateways. 
Founded in 2011, ZaakPay saw immense growth and development providing advanced technology to make payment methods easier. Also, Zaakpay enables you to inspect the entire review of a consumer's actions on a client's page. 
It allows accepting payments through Netbanking, International Cards, Domestic cards, Wallets, UPI, and EMI.
Developer friendly

Simple Pricing

Easy and simple to use

Instant onboarding

24/7 Customer support.
There are two plans – Standard Plan and Enterprise Plan
Standard Plan: 
2% for All Indian credit, debit card, net banking, and wallets

0% for UPI
Enterprise Plan: Customized quotation on contact.
Zero Setup fees

Zero Annual Maintenance charges
If you're running low on budget and looking out for the cheapest payment gateway, then CashFree is the answer. 
Cashfree is a full-stack payments solution, founded in the year 2015. It is used by 50,000+ businesses for vendor and wage payouts, bulk refunds, etc.  
CashFree is easy to integrate and it also enables you to get instant refunds. Its simple API banking platform lets businesses send money round-the-clock to bank accounts and cards eliminating doing all the paperwork.
It supports net banking, credit & debit cards, UPIs, and also international payments. While most of the payment gateways take 3-5 days for refund, Cashfree provides instant refunds. It also settles payments the next day itself. Based on your business volume, Cashfree also provides a customised plan.
Major brands like BigBasket and Dunzo have been using Cashfree as their payment gateway.
Logo:
Bill Desk is a popular payment gateway in India that allows people to pay and receive all their bills in one place. A lot of Indian banks are connected with Bill Desk to help you make the payment process simple, quick, and safe.
Using Bill Desk, customers can decide how and when to make payments based on personal needs. It is a great way to pay and receive payments for various bills.
Logo:
Year Founded: 2000
Key Features :
1. Allowing you to pay and receive your bills via email or text messages
2. Allow you to set payment reminders or alerts
3. Connecting with most major Indian banks.
100+ payment modes.

Instant Refunds

Next-Day Settlements

Easy & Simple Website Integration

Recurring Payments

Low transaction fee
For Net-banking, Credit/ Debit cards: 1.75% per transaction

For Pay Later and Cardless EMI: 2.5% per transaction

For International cards: 3.5% + INR 7 per transaction

No Annual Maintenance Charges

No Setup Fees
In India, the digital payment transaction is forecasted to witness an annual growth rate of 16.7% from the year 2020-2024. Online payment can be the future of the eCommerce segment as well.
The above-mentioned companies are some of the best payment gateways in India. They are fast, versatile to integrate, user-friendly, and most importantly, safe, and secure. Your effective and agile business needs an effective payment gateway!
If you are looking for a website development agency to develop your eCommerce or corporate WordPress website, you can get in touch with us. We also specialize in custom software and mobile app development.