11 Best Android Camera Apps
We have listed down the top android camera apps of 2021. These apps have been analyzed based on the picture clarity, performance and features.
There is no denying the fact that cameras on your smartphones are getting better with each passing day. Most of the smartphone companies are burning midnight oil to provide the best cameras to users. However, users are still switching to other Camera applications on Android to make their photos look surreal. 
These third-party camera apps are user-friendly and enriched with a plethora of features to help you take high-quality photos and videos. These apps are the go-to editing apps for photography enthusiasts. Moreover, these apps also have functionalities through which you can manually control your camera. What's more? Edit and share your creation with the world! Sync your social media accounts with these apps and flaunt your creativity to the world! 
There are many paid and free camera apps available on the Google Play Store. This article will take you through some of the best android camera apps which are worth trying!
1. Camera MX
Camera MX is a versatile app that helps you in creating animated photos and videos. It provides features such as live effects and creative filters for enhancing your pictures and making them more attractive. The super easy to operate application has several options, a few of which are available on the main screen, while the others can be browsed through additional menus.
Colour splash effects, mirror camera, kaleidoscope, little planet effect, and more are some unique filter options available. Not just photos, you can also create and edit your videos. 
Camera MX also has a GIF mode through which you can make GIFs. The unique highlight of the app is the 'Shoot the Past' function. With this function, you can make your camera a high-speed burst camera. You can capture the sequence shots before actually pulling the trigger. This feature is a magical addition to the app. 
Camera MX is a multifaceted Android application that is free of cost. This app is a beautiful tool that will help you effortlessly capture all the valuable moments of your life. Get the app today and keep those everlasting memories forever treasured.
Installs: 10M+
Rating: 4.3
Review: More than 319K
2. HD Camera
The HD camera is an Android-based application with brilliant face detection, HDR technology, magical effects, 4K quality, GPS, geo-tagging, and much more. With HD Camera's Studio mode, you can feature in your photos like a fashionista.. Keep posing without worrying about the angle or lightning as this application is smartly designed to adjust that itself. It also has manual controls for color effects, exposure, white balance, and ISO.
It comes with 1000+ templates to create those quirky short videos. You can directly share these videos on different social media platforms through this app's inbuilt feature. Get the most trending templates for every occasion.
Are you a creative soul? Create your stickers, turn your ideas into reality and share them with the community. Create great content with an HD camera and win a chance to get featured in the application. Install now and get the ball rolling. Hurry up! 
Installs: 50M+
Rating: 4.4
Review: More than 117K
3. Open Camera
True to its name, Open Camera is an open-source and free camera app. There are no intimidating third-party ads in this app. If photography is your forte, this app is worth trying. It has all the attributes of a high-end professional camera. It encapsulates numerous features such as ISO, white balance, color correction, exposure.
Open Camera app also has multiple remote features. It enables you to take photos without even touching your phone. You can also configure the volume keys. What's more interesting? You can even take a photo using voice command. You can also shoot in RAW. The tech-savvy app also provides GPS-location tagging of photos and videos. It also supports Camera2 API. The noise reduction and dynamic range optimization modes make this app worth a try! 
Photography enthusiasts? Install this app and get ready for a fascinating experience!
Installs: 50M+
Rating: 4.1
Review: More than 204k
4. Camera 360
Camera 360 is a free photo editor application available for both Android and iOS users. It offers you two ways to edit pictures: either you can take an instant new picture with its camera application, or upload an image from the gallery. Camera 360 has over 300+ filters, including retro, black and white, HDR, LOMO, and many more.  
While taking a picture using Camera 360, you have the option to choose between standard and stabilize mode. Standard mode is like the native camera application, while stabilizer mode is the preferred option for shaky hands. Besides these modes, Camera 360 also has the timer and burst mode to take stunning images.
To add to your engagement, Camera 360 offers an array of scenes that can be applied to the images' background. However, it is mandatory to have an internet connection to access these scenes. Camera 360 employs a clean and easy-to-use interface, so a non-techie can also take advantage of its powerful editing features.
Installs: 100 M+
Rating: 4.4
Review: More than 4M
5. Footej Camera
Image getting blurred, or distorted frequently? No more, install Footej Camera and drop your photography worries! Say goodbye to the boring complex features of using external camera apps and try the new Footej Camera app with the fantastic user-friendly interface, which is simple and bloat-free. Now easy to focus with manual ISO and shutter speed control to effortlessly capture your best moment. 
With manual controls for accurate focusing and exposure verification, this app clearly captures the raw images. The Footej Camera app also supports RAW and RGB histograms. This app also makes use of the Camera 2 API. Through the premium package, you can also make high-resolution animated GIFs. It enhances the images' quality with options for adjusting the light and exposure while clicking selfies or raw pictures. 
Installs: 1 M+
Rating: 4.4
Review: More than 7 k reviews
6. Cymera
"Cymera" is a new photo editing, collage making, and filtering application of South Korea. It can be downloaded in both of the mobile operating systems- 'iOS,' and 'Android.'
The primary properties of this application include:
The filtering tools

The crop tool

 The make-up tools

The body-face editing tools

 The general adjustment tools
What makes this application unique from other photo editing applications is its 'Beauty Camera'. This unique feature of the app helps in redefining the structure of the face and the body. It also helps in eliminating the wrinkles, dark circles, blemishes, and pimples from the front. 
Advanced red-eye removal function, skin correction features, and slim your waist feature are some of the best body retouch editing options available in Cymera.  
Apart from that, it helps the users create great collages within a short period. What's more? You can make these collages even more beautiful with the added features of backgrounds, borders, layouts, margins, etc.
"Cymera" supports various languages like Korean, Russian, Indonesian, German, Chinese, Japanese, Portuguese, Vietnamese, Turkish, Spanish, English, and Thai, making it more reachable and accessible. It can be downloaded from both "Google Playstore" or "App Store".
Installs: 100 M+
Rating: 4.6
Reviews: More than 2M
7. Bacon Camera
Bacon Camera comes with unique features only designed to provide you the best shots you could imagine. Give your pictures the personalized touch with the manual controls feature. 
Ranging from the wide-angle panorama, multi-exposure, timed shots, flash sync, ubi focus/refocus, and much more, this camera offers every feature that a photographer desires. It also offers basic parameters such as colour balancing, ISO speed, and Bayer Raw and DNG support. 
It also supports remote shutter control. So, get ready to be the showstopper and capture the best version of you!
Installs: 1 M+
Rating: 3.9
Reviews: More than 13K
8. Z Camera
Z–Camera is a supreme quality photo-editing application where you can edit your pictures to make them more alluring and beauteous. It comes with a dozen filters that create beautiful images of HD quality.
This app is easy to use and has received positive feedback from its users. The functionality is not only limited to edit pictures but also to make collages using different layouts.
Through Z-camera, you can merge almost 20 photos in one collage. You can pick the best layout, make collages, use filters, stickers, texts, and much more to add fun to your snaps. Z – Camera also offers various editing features like Instagram square photos with blur background. You get these facilities at your fingertips by downloading this application.
Make your memories more graceful by exploring different picture layouts and photo grids. Enjoy the experience of saving the photo in high resolution and sharing pictures to social apps.
Installs: 10 K+
Rating: 4.4
Reviews: More than 185
9. Google Camera
Known as Gcam, Pixel Camera, the Google Camera is a smartphone camera app developed by Google for Android devices. The application is designed to enhance your smartphone photography experience and is now available for all Google Nexus and Google Pixel Devices. As yet, it is not available universally for all android devices. 
The number of features available in the application aids in improving your photography experience. The features include HDR+, photosphere, night mode, panorama, etc. You can also add AR stickers to add some animated elements to your pictures. Moreover, there is a night vision mode, which helps shoot much brighter and clearer images even in the dimmest light.
The primary reason behind its popularity lies in the many unofficial ports available. Though it is officially available for Pixel-enabled devices and Nexus, you can enjoy the app's benefits on any device by downloading and installing it through these unofficial ports.
In short, to get the most out of your mobile camera, this app is any day a better choice than the default camera app available on your phone. Hence, it is much coveted by android users across the world.
Installs: 500 M+
Rating: 4.5
Reviews: More than 863K
10. B612
B612 is a simple and easy-to-use app with many a plethora of beauty filters such as makeup stickers, video filters, editing, and more. It has 1500+ diverse stickers like facial recognition stickers, stylish analog stickers, and drawing effects you can use as you shoot a video. 
The app comes with 43 specially designed filters that add a sharp touch to your photos. You can choose any of these filters which match best with your mood.
Along with this, the app comes with an easy-to-use collage feature too. With a range of premium features and functionalities, B612 app is truly an all-in-one camera app. 
Installs: 500 M+
Rating: 4.3
Reviews: More than 6M
11. VSCO
VSCO is a well-known photo editing software that allows you to beautify your photos. This app is available on both Android and iOS platforms. VSCO offers a free 7-day trial to help you get familiar with the app features and make the right choice.
VSCO app has good editing tools for exposure and colour. You can also use grain and fade features to add texture and mimic analog film effects. The app has an easy-to-use interface. With VSCO Montage, you can create a video story or make a moving collage by layering videos, images, and shapes. You can even build social connections on the VSCO app. You can take part in weekly photo challenges and horn your photography skills. 
With VSCO premium, you can also use advanced photo editing tools like HSL and Split tone.
Installs: 100 M+
Rating: 4.2
Reviews: More than 1M
12. Retrica
One of the most commonly used apps by millennials is Retrica. With more than 180 filters it gives you a variety of options to choose from. Like Instagram, you can use Retrica to use different filters while clicking your pictures. You can apply these filters in real-time and see how the photos will look like before taking them.
These filters have a variety of options like black and white, muted tones, vintage feels, and filters for almost every color option. The app also provides options for making collages. Along with options that include artificial shading and timers while clicking pictures from a tripod.
Retrica is available for all IOS and Android users offering some completely free features to use.
Installs: 100,000,000+
Rating: 4.4
Reviews: More than 62 Lac
13. A Better Camera
Almalence's camera app allows users to take incredible pictures and enhances traditional shooting experiences with features like:
Burst: Allows for you to take 30 trial shots before requiring an unlock key
Grid: Users can choose from a variety of shooting guides to help them achieve the correct focus
Details: Offers additional information such as ISO, aperture, and white balance settings
Hub: Store all of your captured images in one central location
Lenses: Select from a variety of add-ons that enhance your abilities
Night Mode: See incredible night vision photos taken through this unique lens
There are also additional shooting modes offered that cover burst shots, HDR images (taken with effects that always look uniform and taken with Google Map integration), panoramic shots, and night options for low light scenes.
For additional premium features, users must tap to unlock the full version of A Better Camera for $0.99.
Installs: 5,000,000+
Rating: 3.9
Review: Approx 80K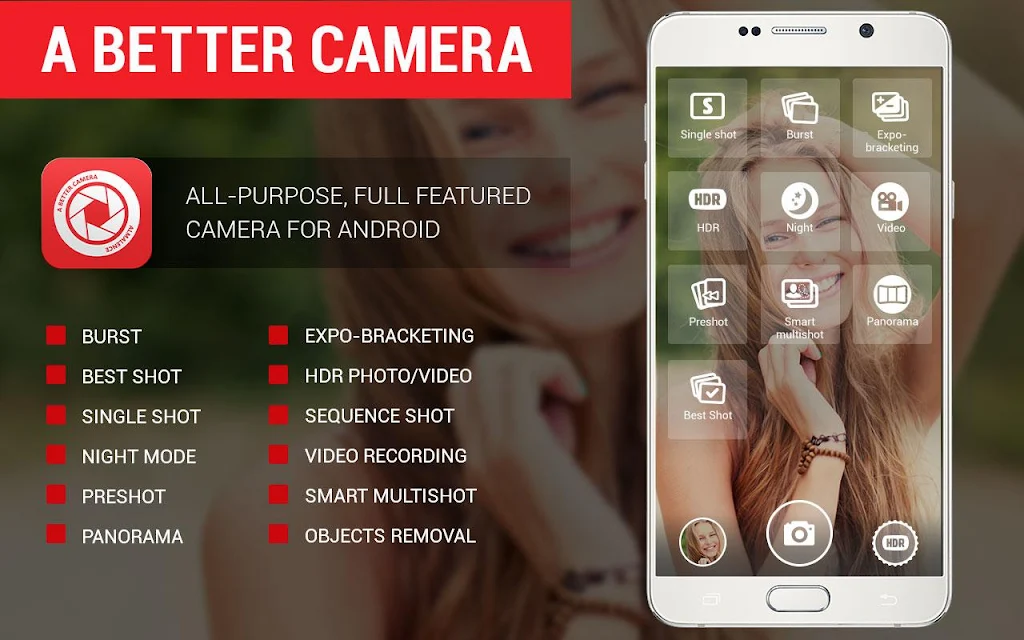 Conclusion
All the above-mentioned apps combine photography with stunning amateur effects. Manual control, attractive filters, selfie support, group shots, time-lapse videos, video stories, and a range of other features to photograph every occasion. Download and start using these apps to make your photos look surreal!
Thinking to put your creative caps on and develop a third-party camera application? With Eiosys, you can bring this idea to life. Eiosys is one of the leading android app development companies in India. We can develop an android camera app that is engaging and brimming with top-notch features.
Which is the best camera app for Android users as of 2021?
As of 2021 Google cameras are the best camera and most used camera app for android users. However, Zoom FX Premium, MX, Camera360, Pixtica are the other most-used apps apart from Google Camera.
How can I change the Resolution for my Android Tablet's Camera?
You can follow these simple steps to do the same: 1) Display the Camera app's shooting modes. 2) Select the Settings icon. 3) Select Resolution & Quality. 4) Select a model and a camera. 5) Select a resolution or video quality setting from the list.
Which is the best manual camera app for Android users?
If you wish to click better pictures, VSCO is the best manual mode camera available for android users. It provides you with additional manual mode options which are free to use. With the manual mode, it is easy to shoot in RAW files which aren't compressed, letting you have higher quality images.
How can I make my phone camera better?
If you wish to click good images using your current camera, you need to set the resolutions high. The higher the resolution of the camera will be the better quality of images you will get. While clicking pictures with your phone camera try to go close to the subject rather than zooming in. This will get you a better resolution image.
Will I get better pictures using google camera?
As mentioned earlier, Google camera is the best android camera app so far. You can use it for any Android device. You can take the best advantage of your camera by using this app. It helps you get the most advanced image processing technologies.
Is it safe to install a Google camera?
Yes! It is absolutely safe to install Google Camera. XDA Developers have tested and analyzed the app and stated that it doesn't contain any malicious code and is safe to install. However, be watchful of any non-official APK as there is a risk involved whenever an APK is side-loaded onto a device.
Can apps use cameras without permission?
Only if the app needs the camera it will be asking for your permission to access the same or else it won't. Android systems in general lets you know what background processes are active and what all apps are making to use them.
Other options for Free Camera Apps for Android and iPhone in 2021 than Google camera?
Camera FV-5, Camera360, Candy Camera, FaceApp, Camcorder, Loopsie are some of the great options.