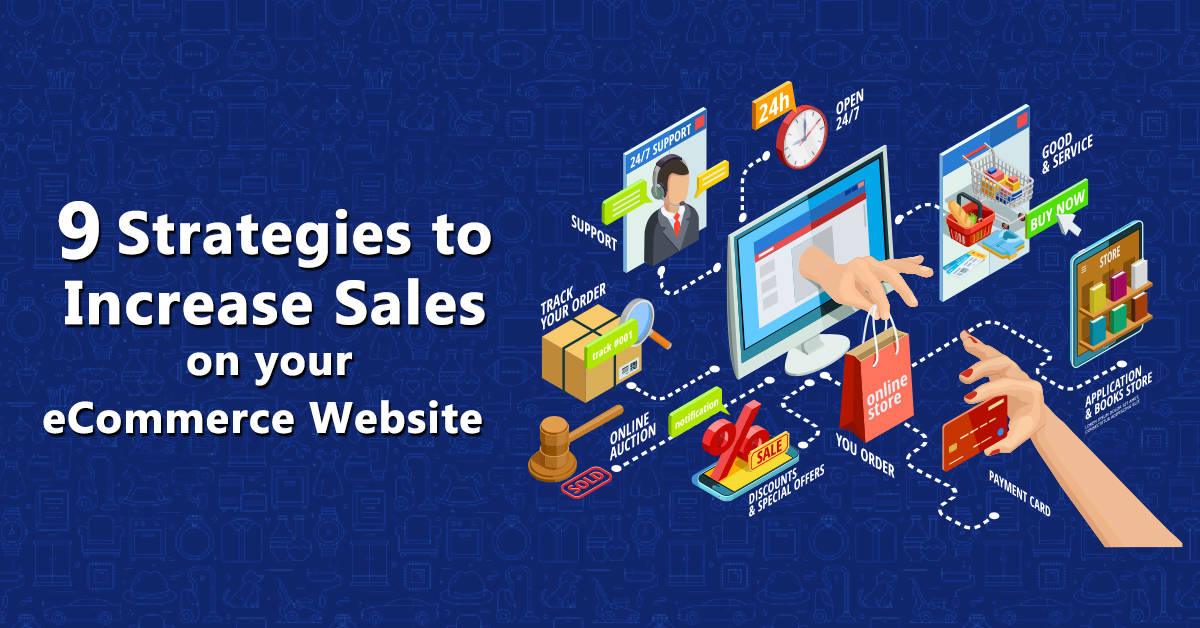 9 Strategies to Increase your eCommerce Website Sales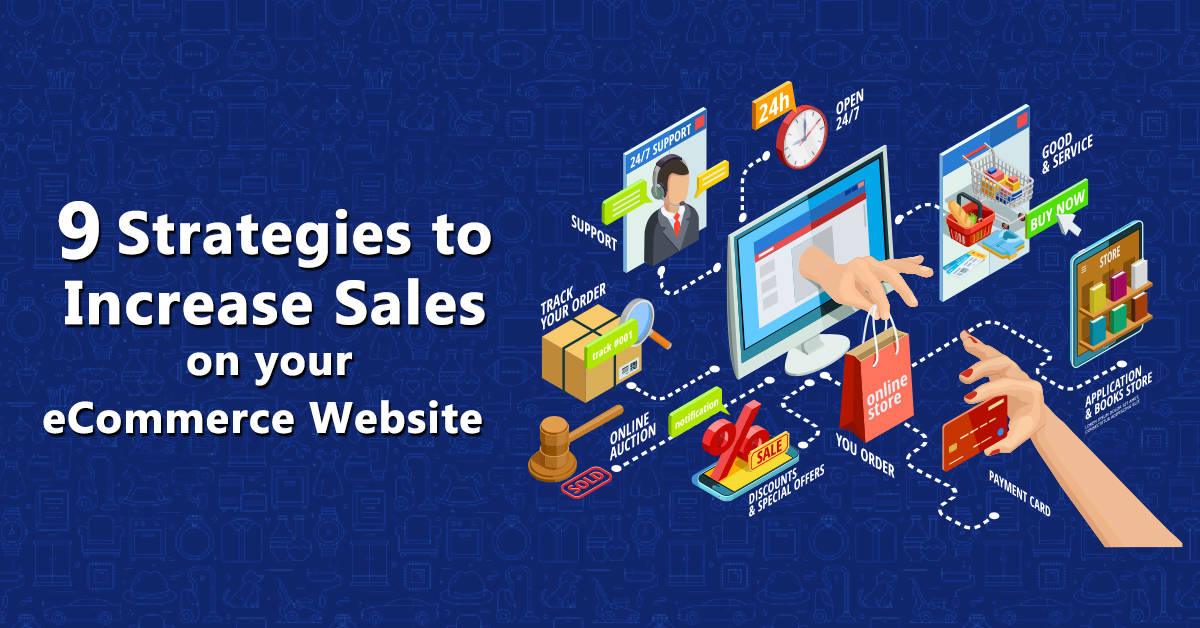 In today's time, setting up an eCommerce website is easy. The uphill struggle lies in running it smoothly and increasing sales. There's no better feeling like that of seeing purchases rolling inconsistently on your website. 
If you're the owner of an eCommerce website, you'd surely yearn for it? Wouldn't you? More sales mean more profit. However, how do you consistently increase your eCommerce sales?
Curious to fix your eCommerce growth strategy and increase sales? Read this article to discover 9 crucial techniques that can turn your eCommerce store into a powerhouse that generates sales day in and day out.
Loading time is the first impression of a website. The first step to increasing sales is to make your website load faster. 
If your website doesn't load quickly, a visitor will move on to a different website, leading to an increase in the bounce rate. Even the delay of a few seconds can cause a higher bounce rate. Think of the sales you'd lose because of a higher loading time? 
Even search engines like Google are more likely to rank your website higher if it loads quickly. Hence, loading time and speed of your eCommerce website are the most important parameters, both from search engines and user experience point of view. 
In fact, this is one of the most crucial parts of the SEO strategy that we design for our clients.
You can check your website's page load time using free tools such as Google Page Insights and Pingdom.
Optimizing page load time massively improves the customer experience on your website which eventually leads to an increase in sales on your eCommerce website. 
Amazon Load Time Score on Pingdom
2. Easy Product Search Option
The product search box is the start of the customer's journey on your website. Through product search, customers find the product they're looking for. Hence, the product search is an important determinant of sales and conversion on online stores. 
The ease of product search is of paramount importance for a customer. You can use auto-suggestion features to guide customers to the right product. Also, the product search option should be available on every page of your website. 
In this way, customers can quickly search for different products without having to go to the home page. 
The product search bar should always catch a visitor's attention, it should be distinguishable from the other elements on your website. For example, you can consider offsetting it in a different color from your website's color scheme. 
Another better way to provide an easy product search option is by including multiple spelling variations of a product in the search box. For example, even if a customer misspells the product name, he/she should be directed to the desired product he/she is searching for.
Sticky Search Bar on Flipkart
3. Showcasing Product Benefits
Product Descriptions are a core part of the product page. Product descriptions are an excellent way to use storytelling and describe the unique features and benefits of the product. 
A good product story is as important as the product image. If written properly, product descriptions can drive organic traffic and boost sales. However, product descriptions should be easy to read. 
Remember, not all shoppers will read every word of your description. Hence, it is important to make your content scannable. A customer should be able to read all the important product information in a single glance. 
Bullet points, headings, and copies can all be utilized to deliver the message to shoppers in a rush. Finally, keep your content unique, SEO-friendly, stick to your brand tone and use powerful words that connect with the customer's emotions.
Detailed and segmented product descriptions can increase sales on eCommerce website by nearly 6% – 9%.
Product Description on Myntra
4. Simplified Checkout Process
If your checkout process is smooth and reliable from start to finish, you can decrease cart abandonment and boost sales. In short, the lesser number of clicks on your checkout process, the higher can be your conversion. 
A multi-page checkout can not only be time-consuming but it can also be a bit irritating for customers as they quickly want to place an order. Hence, always try displaying the number of steps in the checkout process to give clarity to the customer. 
Opt for a one-page checkout to ease the checkout process. Also, asking customers to compulsorily register is the biggest turnoff. It is also one of the common reasons for shopping cart abandonment. 
Hence, to increase your sales, enable customers to check-out without having to register on your website. Ensure that your customers know the full amount they need to pay before they reach the checkout page. 
There is nothing worse than losing your customer at the last stage of the sales funnel. Hence, simplify the check process in the best way possible to skyrocket your sales.
If your website is developed on WordPress, you can easily enable this feature through WooCommerce > General Settings. You can get in touch with our team for WordPress website development requirements.
A few years ago, the usage of live chat in our routine business was a fiction seen in movies. Fast forward now and it has become a reality, a technological advancement that we have adopted in our day-to-day life. 
Through ubiquitous availability, instant response, and enhancing customer service, these live chats can upgrade your eCommerce business to an unprecedented level. Various studies have proved that live chat boosts online sales as customers find it more informative and useful than emails or phone calls. 
Live chat provides real-time help to customers whenever they encounter any technical problem on eCommerce websites. It also reminds the customer of their wishlist in the cart and encourages them to make a purchase, increasing sales. 
A well-structured live chat can be the only difference between a successful purchase and a shopping cart abandonment. You can use the plug-and-play live chat tools offered by companies such as intercom, drift, freshchat etc.
6. Use of Coupons & Vouchers
We all love discounts, don't we? To boost sales, coupons and vouchers should be an integral part of your eCommerce success strategy. For first-time customers, you can provide coupons with attractive discounts. 
You can even create an exit intent pop-up to display the discount offer. In this way, you can target visitors while they're leaving your website. Whenever there is a public holiday or festive season, display coupon offers on your homepage or contact your customers via email and SMS. 
Reward customer loyalty by offering gift vouchers and special discounts. Sometimes, you can even offer a free product when a customer hits a particular milestone. For example, send a thank-you note along with a discount coupon when a customer completes a one-year of shopping on your website. 
You can even make your customers feel special by sending them birthday wishes along with a unique coupon code. Apart from increasing sales, all these initiatives also boost customer loyalty.
In the digital world, seeing is believing! Adding high-quality images is pivotal to building a brand online. What's more? Images can skyrocket your sales!  Products with high-resolution photos can show higher sales and better engagement. 
Through clear product images, customers can get a virtual feel about your product. Real product images build confidence among buyers and empower them to make the purchase decision. 
Show the different colors and styles of a particular product to customers. Allow the customers to view the product using different angles so they can visualize themselves using it. 
Provide the image zoom feature to customers so they can get a detailed view of the product. Remember, the better the customers feel about the product, the more likely they're to purchase that product!
8. Product Reviews & Ratings
Unique and best-in-class customer reviews are more important than ever. Reviews and ratings are the topmost factors that impact purchase decisions. 
Since people get influenced by reviews and ratings of a product, it's important to encourage your customers to review your products. Ratings are even important from a search engine point of view. 
Ratings and reviews lead to a higher click-through rate. Google now gives significant importance to reviews and ratings. If your website has good ratings and reviews, you can achieve a higher SEO ranking, which can eventually increase your eCommerce sales.
A full-fledged email marketing strategy can help you connect with the target audience in a personalized way and increase sales. You can use emails to send attractive discount offers, new product launches, customer testimonials, and newsletters. 
When you send discount offers, always include a CTA and create an urgency for any discount offer. People are more likely to buy when the deal is ending soon. 
The other thing fascinating about email marketing is its easily measurable. You can monitor the performance of your email marketing campaigns, make amendments, and enhance its effectiveness.
If you follow the above tips, seeing an upward sales graph for your eCommerce website would be a regular thing. The success of your online portal heavily depends on sales. Increase your eCommerce sales and you'll also be able to boost your bottom-line results.
If you are looking to develop an eCommerce website, you can get in touch with our sales team. Eiosys has helped several companies across the world to start their online store and build custom android apps & iOS apps.