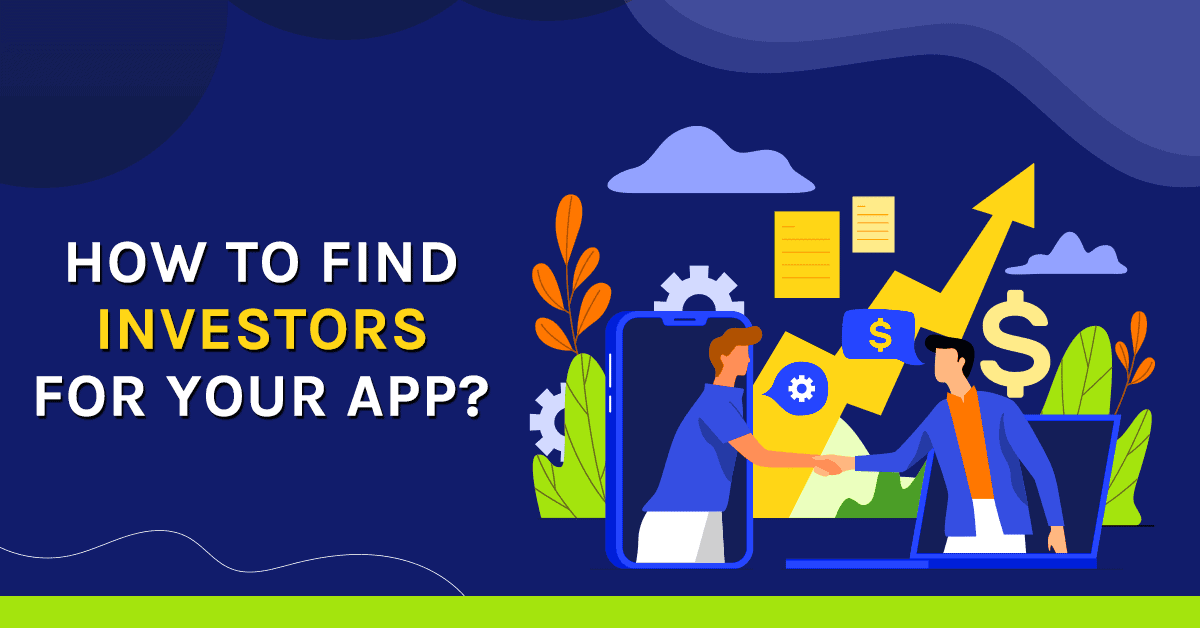 How to Find Investors for your App?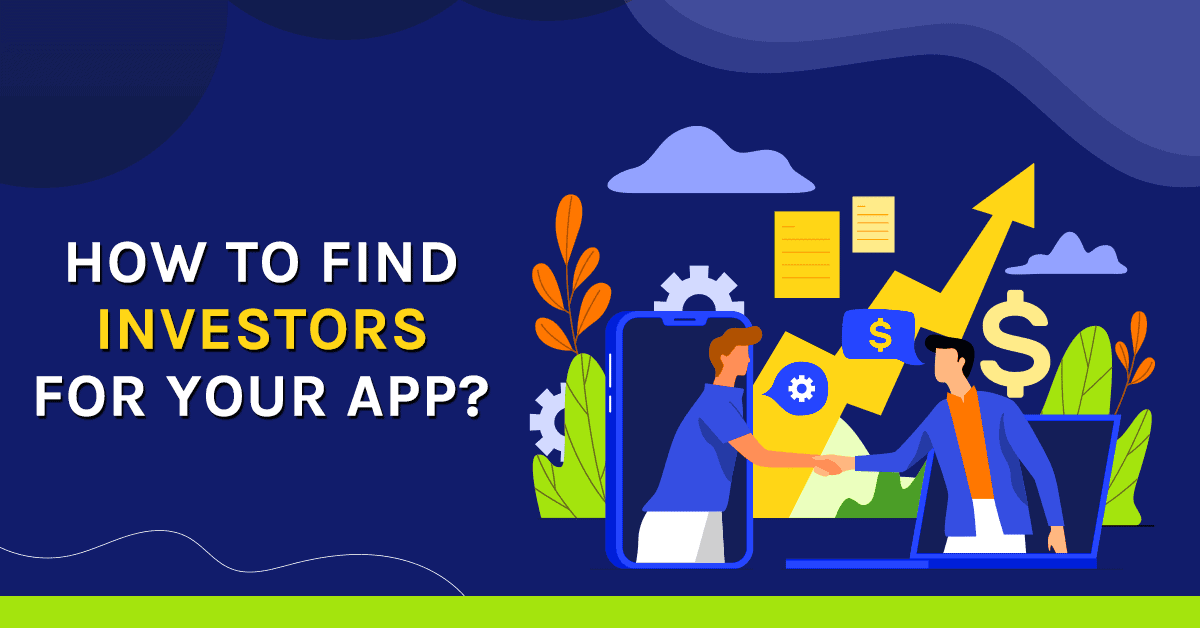 A kick-ass idea can give rise to a successful startup. But hold on, is an idea merely enough? No! Without the right funding for your winning app, your idea will probably never see the light of day. Hence, finding investors for your app is as important as the idea itself!
Getting investments for your app is surely not a cup of tea. Hence, you need to search for investors when your business is in the nascent stage. If you get a breakthrough, investments can help you scale your app idea and convert it into reality. 
If an investor finds your app startup idea to be fascinating and sensible, it can definitely be a good start to your app development journey. Moreover, investors can provide you end-to-end support to launch and promote your app.  
However, how and where can you find these investors? How do you pitch them your idea? What type of funding can you ask from them? If you have all these questions, this blog answers them all. 
This blog will take you through the overall process to find the investors for your app, creating an elevator pitch, and methods to ace the coveted round of funding with ease. Here's the perfect step-by-step checklist to find investors for your app.
1.0 –  Determine your App's Niche
With the emergence of the Internet, it feels like there's an app for almost everything in the world! In such a crowded market, it's imperative to distinguish yourself from your competitors. Investors are least interested in funding an app that is common in the market. 
Hence, it's important to do research and find out the competition in the market. Besides conducting thorough market research, you also need to understand the dynamics and workability of the app stores. 
In doing so, you can acquire useful data on where the audience's inclination is and how to attract their attention. You need not find a new niche on your own, you can alter an existing niche with some new actionable solutions. 
Investors need to know the niche of your app, the problem you're trying to solve, and the spectrum of your target audience. Narrowing down your app idea can enhance your chances of getting investments.
Strong branding is the key to make your app look professional. A brand resonates with its customers through its values and purpose, not through individual product features. Defining a brand position gives users the chance to connect with your product on a deeper level. 
You need to have a full-fledged marketing and branding strategy in place. A logo and domain for your app, demo of user interface, and an overall mockup of the app should be developed. 
This helps the investors to visualize your idea. It also helps them get a better understanding of what you pitch to them. 
By coming up with an out-of-box marketing plan, you stand a chance to gain investor's confidence with ease. Branding is the foundation for laying out the rest of the process. 
3.0 – Develop an Elevator Pitch
Similar to a personal elevator pitch for an interview, your app pitch is the key to impress the investors. Basically, you should describe your app briefly and to the point. The pitch should keep your investors hooked and excited about your idea. 
Choosing a robust elevator pitch is what you need when you have less amount of time to interact with the investors. You'll always have more time to elaborate on your idea once your investors find the pitch to be interesting.  
A great elevator pitch is drafted by keeping the following steps in mind i.e identify your goal, explain what you do, communicate your USP, engage with a question, and in the end, put it all together.
4.0 – Determine the Kind of Funding you Need
It may happen that you might not have any idea about how you ought to come up with the money, but once you are approaching the investors for raising funds, you need to understand the way to do it. 
You need to understand that investment comes piecemeal and you would like to be clear about the sort of money you are looking for. 
Once you just have a vague app idea to figure on, then you will be into the pre-seed stage of investment. At this stage, you will not have much revenue, to begin with, and you can't expect much from the investors too. So set your expectations to reality when it involves money expectation. 
The amount of money that flows into your mobile app at each new stage will increase, and it's important to know how much funding you need. Underfunding a project is a clear way to failure if you can't secure additional money in time. 
There's no estimated amount of funding for a mobile app startup. Though you will find rough estimates, precise numbers will depend upon your idea, its complexity, and also the team you'll be working with.
5.0 – Target Appropriate Investors
Now, you will need to find the right investors who could be inquisitive about investing money in your app idea. At the primary stage, you can approach your friends, family members or acquaintances for investment. Getting initial funding for your app project is great but, if you want to scale it, you need to contemplate finding investors who can add more value to your project. 
Investments should not be merely restricted to monetary benefits. Sometimes, the domain expertise and network can also do wonders to your app idea.  So instead of just trying to find someone to invest money, check for the add-ons too. 
When planning external funding for your startup, there are a variety of investment opportunities for you. Based on where your business is in its development, a few funding options may make more sense than others. Various funding options include Angel Investors, Venture Capital Investors, Bootstrapping, Crowdfunding, etc.
5.1 – Angel Investors
Angel investors are individuals who are willing to invest their money in small startups and businesses. Angel investors primarily invest in startups in their early stages. 
Angel investors are also motivated by the proposal. It is important to make sure that your idea is thoroughly researched and validated.
5.2 – Venture Capital Investors
These investors are a part of the private sector and have a pool of money to draw from corporations, foundations, pension funds, and organizations. 
These firms will play an active role in your app startup, as they will receive some equity in exchange for funding, and will help provide expertise in guiding you throughout your development stages. VC's for startups can be utilized in the early or late stages of development. 
Some VC's also invest only in specific industries. Hence, you can also shortlist or search for VC's based in your industries. This will also empower you with domain expertise. 
The Internet is a valuable medium to find VC's. Social networking sites like Linkedin, Twitter, and Facebook are prominent websites to find VC's. Some websites like VC Search, The VC Blog Roll, and Techfiltered also help you search for VC's based on your industry, location, and type of funding you require.
5.3 – Crowdfunding
Crowdfunding, the newest model of funding, is a much asked for option by young entrepreneurs and startups. In crowdfunding, the investors aren't professional investors but common people willing to invest their surplus capital in startups. 
To get crowdfunding, upload an in-depth description of your business. Mention the investment amount required, goals, and business plans for the long run on a crowdfunding platform. 
If the investors find your idea expedient enough, they will be more than willing to invest. Another advantage of crowdfunding is that it also helps to promote your product, besides just generating funds.
Ketto, Milaap, Wishberry, and Kickstarter are some of the best examples of crowdfunding apps in India.
6.0 – Create a Pitch Deck
Another big thing after arising with a robust persuasive pitch is to have your pitch deck. Having a pitch deck is all about describing your startup and also the app idea to the investors. When developing the pitch deck, you need to make sure that it is built around 10 slides and will not take more than 20 minutes. 
The slide should include your startup vision and value you set upfront through your work. You should take this opportunity to let the investors know what your target market lacks and the way your app is going to fit in there and fill it. 
How you are aiming to use the money of your investors should be explained during this pitch deck. Another important thing that you should include in the pitch deckis to show your potential investors about the potential revenue model you have planned with this app launch. Show them what you have planned for the app development process and the way you intend to reach the revenue model. 
You can even introduce your team for better authenticity and mention your sales and marketing strategy. To have a perfect pitch deck you need to set up your document, create a visual style, the problem your product/service solves, what your product is, its market opportunity, marketing strategy, financial summary, and so on. 
If you think that pitching ideas is that easy, then you're wrong. To crack the funding and leave a mark on your investors, you need to practice well.  Before you plan to face your investors, take some time to place things together, and give a presentation to your family and friends. 
This way, any mistakes in your speech or body language can be corrected, and you will be confident enough before the main day. Again, during such sessions, you will get a variety of questions from the audience, which can help you anticipate what you can expect from your investors when you face them.
The benefits of building your network are plenty. Whether you're looking for initial or advanced funding, it's time to turn to your connections and ask for help. Here are a few ways you can build your network and find mobile app investors with ease:
7.1 – Start with Referrals
For a first-time entrepreneur, you need to start by having a look at your close network of family and friends. Take your time and think about whom you can pitch your idea. 
If you had gone to a business school, then maybe your professor is well connected with many successful ex-students. It is a great opportunity to go and pitch your idea to your professor. 
Furthermore, once you begin meeting the app investors, ask them who they would refer to even though they turned you down. You would possibly be a far better fit for their friend's portfolio, and investors rarely refuse to help as it's their job.
7.2 – Meetup.com and Other Events
Meetup is a service that is used for organizing online groups that host in-person events for people with similar interests. Meetup.com is a website that lists plenty of events in your area and you can use it if you don't make a trip to one. These kinds of events focus on entrepreneurs, or 'investors meet startups' format. One thing you need to be careful about is getting across some of the many time-wasters who flood such events pretending to be investors. Mostly these people are consultants offering all sorts of unreliable deals such as finding an investor for a fee. So, it is secure to connect with proven entrepreneurs and ask them for an introduction with the app investors they know. 
7.3 – Reach out to a Local Association
No matter wherever you are from, the possibilities are that a local Angel or VC investor association exists in your country. Get in contact with them as they will certainly be able to help you out. But do not stop there, hunt your local chambers of commerce and alternative associations, connect and ask them for advice and try to get in touch with some of their members.

7.4 – Angel-List and Others
Angel-List is a U.S. website for startups, angel investors, and job-seekers looking to work in a startup. This platform incorporates a mission to democratize the investment process and to assist startups with their challenges in fundraising and talent. You can find out about their average deal size, past investments, areas of focus and interest, as well as the links to their blogs and other online profiles. It is just a three-step process i.e. create a free profile showcasing your experience and skills, browse jobs and choose the businesses you are inquisitive about and look forward to an email saying that that company has also said yes to you. You can search investors based on a range of filters like location, markets, the college they went to, or the skills they offer.
7.5 – Search and Cold Email
You can use Google to seek out people who might invest in you. There are blogs, articles, and market reports often listing the names of investors and entrepreneurs, searching for content associated with your market. After you have identified names, send a cold email. A cold email is an initial email that is sent to a receiver to gain a benefit in terms of favor, sales, opportunity, or any other dual-sided gain. Surprisingly, cold emails can work great. There are lots of examples of an angel investing based on a cold email.
7.6 – Capitalizing on Social Media
Marketing your product on social media platforms drives huge public interest and hype needed to navigate traffic to the app store where it belongs. Invest your efforts and resources on social channels and blogs to keep the buzz alive and fierce and build a sincere community of prospect users. Create a Facebook page or spread a word about it on Twitter using various hashtags because it will promote your app among target users. Social media can also be used as a platform for networking. You can reach out to potential investors and pitch them your app idea.
7.7 – Online Networking and Influencers
Building a powerful network through promoting brand awareness is surefire key to app networking success. Reach out to eminent bloggers, journalists, and reporters whose influential words elicit ample impact on the target audience. Visit forums where you can engage with a community and get an article published on a famous tech blog to generate more traffic.
You have a logo and other branding collaterals in place? Good! You have a demo app created? Excellent! Through the demo app, the investors can interact with your idea and feel it. Bringing your app to life can surely increase your chances of impressing the investors. It builds reliability and credibility among the investors. 
This may help them know more about what you've got in store. If you're unable to put in a good amount of time in its development, then you are seriously taking a risk. If you're not well aware of this step, better hire experts who can take care of it for you. You can even have a designer design the pitch and come up with a flat mock-up for you. This might not be that effective but it will do the work.
By now you know that there are many ways to get an investment for your mobile app. The place where to look for investors, depending on the type of investment you are looking for, and this should be directly connected with the level of development you have achieved with your idea.
If you are only at the very beginning of the process, where you seek making the very first steps of shaping the idea into a product/service, the seed investment is what you should be aiming for. This type of investment usually comes from an angel investor, family member, good friend, or crowdfunding. 
If you are ready to bring your idea on a stage and pitch it in a reading way, showing its likeness to become successful, the attention of Venture Capitalists will be yours. You just need to make them trust, that this is something with real potential. Take your time, analyze the process, and then implement it. 
The K-I-S-S Approach i.e. Keep It Simple & Short, is a mantra you need to follow while implementing Elevator Pitch and Pitch Deck. Make sure that your pitch to investors is as impressive as possible. 
Converting your app idea into reality is a task. If you use the above-mentioned techniques, your probability to taste success will be higher. Once you avail the desired investments from mobile app investors, you can upgrade your app solution to the next level.
Our company Eiosys Private Limited is a top android and iOS app development company in India. We have helped several startups convert their ideas into reality.
Our solutions include food delivery, medicine delivery, grocery delivery and catalog maker app.