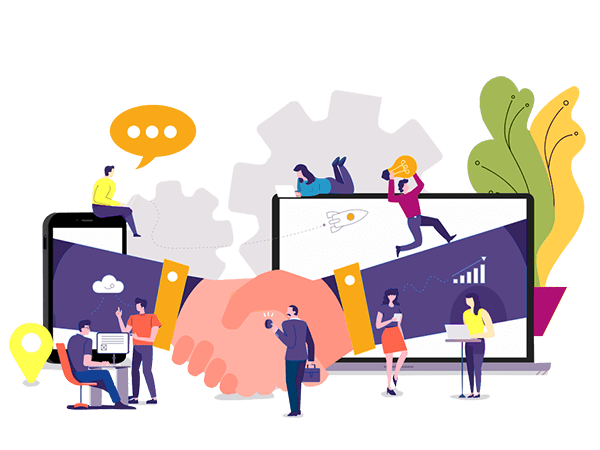 It is said that the result of your success depends on the partners that you choose. With the unparalleled experience of over 9 years in the business, a team of 35+ extraordinarily skilled individuals and with more than 140 completed projects to our name, we are one of the best choices for outsourcing your software development projects.
We strongly believe that growth in our industry cannot be achieved by isolating oneself. Instead, it can be created by building a strong working bond with various passionate like-minded agencies and individuals. For this reason, we have partnered up with several digital marketing agencies, advertising agencies, PR agencies, tech firms, freelancers, etc.
We invite you to be a part of our growing family & look forward to being at your service.
What makes us the right choice for IT Outsourcing?
We're a client-first company at heart, we offer white label services & solutions and are there to handle support tickets raised by our clients. Our support team is well versed and proficient in fluent English conversations. No matter what your dialect is or what country your client is from, you will feel at home with us.
We believe in the ethical practices and therefore we procure licenses for every software, every plugin, every theme we use for the software development. Client confidentiality is important to us and we respect and value your privacy. We, therefore, follow very strict practices to ensure that all of your client's data that you entrusted upon us is kept safe and secure using utmost security protocols. We also diligently follow the non-disclosure agreement we sign up with you so that your clients can have peace of mind knowing that their product is in the best hands.
Communication is critical when you're outsourcing your software development project. Without proper communication, various misunderstandings can arise which cost both clients and our money and time. So to combat it, we ensure that we are always available for you and your client on WhatsApp, email, skype, and other media to resolve queries or support tickets.
Our apps have won appreciation from industry leaders and we're constantly recognized as the top mobile app development company in India by several third party independent website such as Appfutura.
Do you still have queries or are you ready to come on board, feel free to contact us.